Contrary to earlier reports, it now appears that troublesome equipment recently installed aboard the International Space Station (ISS) to reprocess astronaut urine into drinkable water is still not working. Worried NASA chiefs intend to rush replacement golden-beverage equipment into space on the next shuttle flight.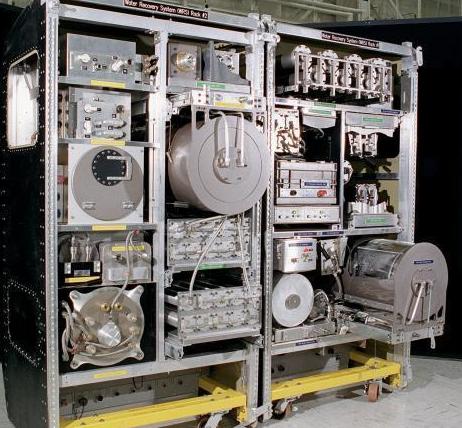 Not taking the piss, unfortunately.
Aviation Week brings the news that the drum-shaped Urine Processor Assembly (UPA) urinal/watercooler combo unit remains recalcitrant. It seems that the new wave of double-strength space station crews will be dependent on water supplies from the space shuttle to survive until new kit can be fitted.
In theory one might ship up drinking-water supplies aboard Russian Soyuz or European "Jules Verne" supply craft - or indeed the new wave of private-industry vessels, such as tech kingpin Elon Musk's planned "Dragon" capsule. However this would involve more extra weight than one might think, as in fact the current shuttles don't need to carry large amounts of water up with them at present.
Rather, the ISS' water tanks are apparently replenished mainly using water produced as an exhaust product of the shuttles' fuel-cell powered electrical systems, an option which wouldn't be available with other visiting spacecraft.
Av Week quotes Mike Suffredini, NASA ISS chief, as saying that shuttle flights will be essential to prevent an upsetting personal-hygiene and/or refreshments crisis among the new six-person crews unless the UPA and its companion water-harvesting machinery can be got working. As the shuttles are planned to retire next year, this presents something of a watershed in the ISS' history.
However Suffredini says that a new and improved UPA golden-barrel unit will be shipped up to the station on the very next flight, STS-119 by shuttle Discovery, currently subject to unrelated delays. This will allow the planned sampling process - held up by the current, unserviceable drinks dispenser - to proceed and the new era of self-sustaining space explorers to be ushered in.
"We'll have to get more water from the shuttle than we would normally require, but that's not an issue," Suffredini told the magazine.
"We need a little time to sort through the anomalies. We'd like to get the distillation system working and processing all the water we can to save upmass."
There was no word on the proposed fate of the original UPA, said to have cost - along with its companion water-harvesting equipment - $250m to develop. ISS astronauts have in the past shown themselves willing to simply dump surplus equipment into the Earth's atmosphere, regardless of any unpleasant contents. ®