Review While there's been much talk of touchscreen operation coming to its N series, Nokia continues to roll out conventional additions to its high-end smartphone range that don't demand the spotlight but which still put in a big-stage feature performance.
The N85 slots into the N line-up just below the flagship N96, and there's a distinct family resemblance to it. In fact, the N85 is the natural successor to Nokia's highly popular N95, packing a similar list of features into a slimmer, more compact sliderphone package.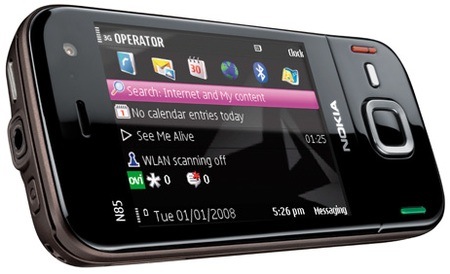 Nokia's N85: flagship features
Running the Symbian S60 operating system, the N85 has much of the top-line gadgetry of the N96 - minus its 16GB memory and UK-irrelevant DVB-H mobile TV tuner. Among its headline features are A-GPS, 3.6Mb/s HSDPA 3G, Wi-Fi, a 5Mp camera and N-Game gaming. And Nokia has introduced an FM transmitter, enabling track playback over the car radio, iTrip style.
The N85 closely follows the design template of the N96, including the two-way-slider mechanism that reveals a conventional numberpad as the front panel's pushed up, and a set of media player controls when the screen slides the other way.
It's a marginally smaller and thinner than the N96, with its 103 x 50 x 16 mm body acceptably proportioned for the amount of gear stuffed inside. At 128g, it feels substantial in the hand and pocket, and the build feels pretty sturdy, despite the plastic panelling. Its rounded edges make it comfortable to handle, while the slider action feels firm enough so it doesn't accidentally open in your pocket. A sprung slider lock on the side prevents accidental button pressing too.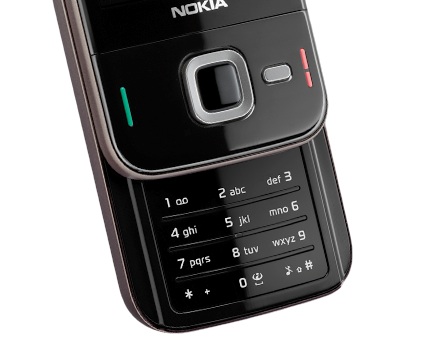 The navpad also works like an iPod clickwheel
The reduced width translates into a smaller screen: it has a 2.6in, 320 x 240 display against the N96's 2.8-incher – though it's still larger than those of most mobiles. It's a 16m-colour OLED display, providing clear and bright viewing.