Gmail adds location-aware signatures
This email is coming from INSIDE THE HOUSE!!
---
Google must be on a location-aware kick this month. Just a week after the search firm released its Latitude mobile device friend-tracker, Google Labs has a new tool that lets Gmail automatically include your location in an e-mail's signature.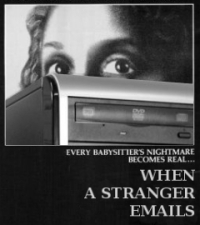 "Sometime ago, I noticed how all mail systems tell you when an email was written, but not where it was sent from," said Marco Bonechi, the author of the tool on Gmail's blog. "Because I love to travel, the first question in many messages I receive is 'where are you?' and by the time I answer I am often somewhere else."
The experimental feature can be switched on by going to the Labs tab in Gmail settings. Users also need to have their email signature enabled and have the "append your location to the signature" option clicked in the general settings tab.

By default, it works by checking your public IP address to estimate the location, so it's not exactly spot-on. For example, it flags me as one town over from where I actually am. But if you install Google Gears' location module, it will use wi-fi triangulation to get more accurate results.
After you have the feature turned on, Gmail automatically adds your location like this:

And you can always just delete the location info in the email if you don't want the recipient in the location of your secret bunker – or just embarrassed about what a shut-in you've become. ®