With typical Apple perversity, this upgrade actually starts out with a small downgrade. The previous white MacBook ran at 2.1GHz, so Apple has actually lowered the speed slightly for this model. It's a tiny decrease, though, and probably more than made up for by an increase in the front-side bus speed from 800MHz to 1026MHz.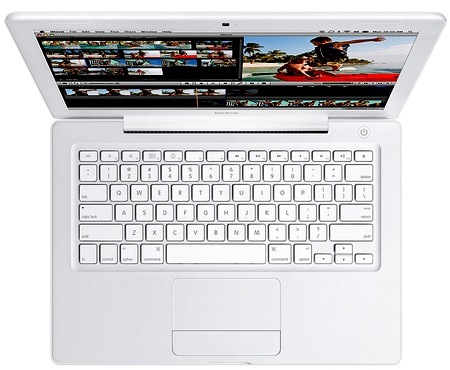 They keyboard's decent
The memory has been increased from 1GB, which is perfectly adequate for running Mac OS X 10.5 and most mainstream Mac software, although the additional gigabyte was probably necessitated by the fact that the new integrated graphics processor grabs a 256MB chunk of system memory for its own use. It's a shame, though, that the DDR 2 memory still runs at 667MHz, rather than the 1067MHz DDR 3 memory used in the aluminium models, as that would have put a little more spring in its step.
The 120GB hard disk is a bit miserly, but not something we'd lose any sleep over. The most important feature is the inclusion of the GeForce 9400M to boost graphics performance. This is the same integrated graphics processor used in the new aluminium MacBooks and, as our Xbench test results show, it produces a huge increase in 3D graphics performance compared to previous white MacBook models.

Multi-format, dual-layer DVD writer one side...
Our own trusty white MacBook - 1.83GHz with Intel GMA950 integrated graphics - can only manage a feeble nine frames per second when running Doom 3, whereas this new model romps ahead with a very respectable 47f/s.
Of course, nobody buys a Mac to do nothing but play games – in fact, the never-exactly-healthy Mac games market seems to have declined even further recently as all the big games developers have been concentrating on the iPhone instead. However, there's a lot of eye-candy in the Mac operating system – such as the Cover Flow and Quick Look options that allow you to quickly preview files without opening them – that requires a reasonable amount of graphics power to function efficiently, so the new graphics processor will have practical benefits even for routine tasks when working with the MacBook.

...plenty of ports - including Firewire 400 - on the other
Programs such as the bundled iPhoto and iMovie are also awash in graphical bells and whistles that will benefit from the enhanced graphics performance.
Sponsored: Webcast: Ransomware has gone nuclear