Spotify: We kick the tyres
Best thing since sliced vinyl?
Review Spotify, which opened up to all UK users this week, is a streaming music access service that's gathered an ecstatic response from some users. It's even "made illegal file sharing look like too much hard work" according to one Reg commenter. That's a pretty big claim - but then it's a pretty ambitious service. So what it is Spotify, and how does it stack up? And in an unforgiving commercial environment, will it last longer than a bat of a eyelid?
What's Spotify?
Spotify is attempting to be a universal jukebox - you click a button, and play any song or album instantly. This isn't a new idea: it's a free, ad-supported version of the US-only Rhapsody, or Napster's streaming service. Deezer does something similar. Spotify inserts adverts (currently every 10 songs or half hour or so) but offers a 99p a day, or a tenner-a-month subscription option to listen ad-free. There's no option to permanently keep recordings.
So the idea isn't new, and Google already offers a universal jukebox, albeit mostly unlicensed and low quality, with YouTube. What's the fuss about?
Primarily it's Spotify's responsiveness. The speed with which Spotify plays music is quite amazing. One of my Reg colleagues reckons it's faster than iTunes accessing its music library on your local hard disk. We didn't get the stopwatch out to test this, but the perception of near-instant playback is justified, and perception matters a lot. Click on a related artist, and the music continues without a hiccup (in practice, less than two seconds).
In this respect Spotify leaves web-based internet radio services like Last.fm and Pandora for dead. Spotify shuns Web 2.0 in favour of a native client on Windows and Mac, but it also employs some fetching (P2P is misleading here, since it's being pulled off a server).
Sound quality is so-so: at around 160kbps it's got that "standing outside the room" feel to it.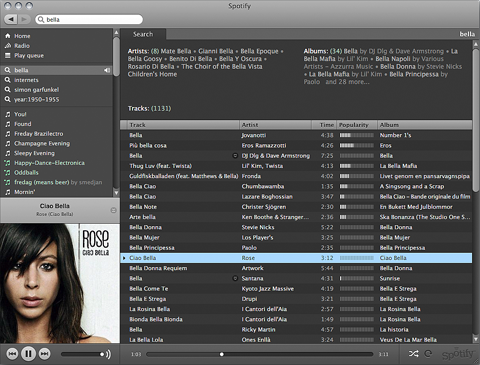 Spotify's agreeably minimal UI
The spartan UI based on iTunes - playlists on the left, library on the right - but without much of the clutter iTunes has accrued over the years. Everything else is pretty minimal too. That's because Spotify, which is still in stealth mode despite being in beta for well over a year, is still a minimal service. There's very few gimmicks: no widgets or scrobbling. Basically, you're scrolling vertically through lists and lists of albums. Spotify offers you five "similar artists", with instant navigation to more vertical lists, but there's no ability to fine tune a search, or browse by label. (As with other services, label information which is so useful in real life is missing).
As with Omnifone you can share playlists with other users. The UI for this is practically non-existant, however. A right click will paste a URI (with either http: or spotify: as the handler) onto the clipboard - it's up to you what to do with it. There's no UI to browse other users, let alone "stalk" them (as PlayLouder MSP, also in beta, permits) or chat to them. Playlists can also be shared in read-write format - which means anyone can edit it.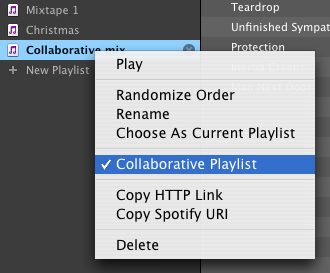 The "sharing" functionality is there, it's just pretty minimal too
spotify:user:userid:playlist:playlistid
or
spotify:track:trackid
Since Spotify is, er, "cloud based", your playlists are preserved as you move between machines. Do people share Spotify playlists? Perhaps they do, but not really here.
So for frills and extras, look elsewhere. Some artists have a brief page of biographical material, typically a fraction of the Wikipedia entry, and many more don't.