This article is more than 1 year old
Prof: Save up fossil fuel reserves to fight the next ice age
'It's too valuable to burn for energy'
Opinion A Danish climate scientist has suggested that the peoples of the Earth should hold off from burning all the planet's available fossil fuel supplies over the next couple of centuries, so as to be able to burn them thousands of years from now in order to stave off the next ice age.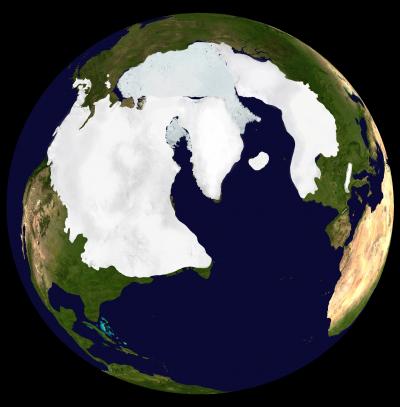 Big freeze? We don't know we're born.
Professor Gary Shaffer of the Niels Bohr Institute at the University of Copenhagen says that another ice age is sure to come as the Earth's orbit varies.
"The Earth's orbit is nearly circular at present meaning that the present minimum in summer radiation at high northern latitudes is not very deep," says the prof.
That's good news, because when the world takes on a more elliptical orbit - as it does sometimes, on cycles spanning tens of thousands of years - the arctic summer can get very cold. This means that the polar ice sheet grows unchecked, so reflecting more sunlight back into space and thus getting even bigger.
The result of such a positive feedback loop is an ice age, which is at least as bad as global warming. According to Shaffer "the greatest climate challenge mankind has faced has been surviving ice ages that have dominated climate during the past million years".
But there's no need to panic. By burning fossil fuels, we have already put enough CO2 into the atmosphere to stand off ice ages for 55,000 years. Shaffer thinks it would make sense to save a lot of the remaining fossil reserves for the far future, when we'd need to bump up atmospheric carbon or face life in the deep freeze.
The prof says that if we carry on as we are now and burn up all the 5 billion tons of fossil fuel remaining over the next couple of centuries, there will be a 5°C rise in temperatures much as global-warming worriers predict, with all the associated problems of rising sea levels, desertification and so on.
But that will be only temporary. After 170,000 years the Earth will have cooled, the orbit will go elliptical and the polar ice sheets will get out of control. Ice Age.
On the other hand, says Shaffer, if fossil burning were cut by 20 per cent in 2020 and 60 per cent in 2050 (with respect to 1990 levels) - then reducing down to zero as new technologies became dominant - a very different scenario could play out.
As the Earth's orbit went stretchy and ice ages loomed, humanity - by then presumably using fusion power for energy, or perhaps wind and sun if that's your preferred vision - would start burning off fossil reserves in targeted "pulses" to "parry forcing of ice age onsets by summer radiation minima as long as possible".
According to Shaffer's modelling, this would allow "our present equable interglacial climate" to be maintained for half a million years, much longer than we would manage if we squandered all our precious glacier-busting carbon right away.
"Fossil fuel reserves may be too valuable for regulating climate far into the future to allow the reserves to be consumed within the next few centuries," says the prof.
One might suggest that on a hundred-thousand-year timescale the human race may well become able to harvest and transport CO2 from Venus if that's what it takes to keep Earth in good shape: or the whole question may become moot for other reasons. Nonetheless, it's an interesting idea. There are more details from the Niels Bohr Institute here, including a link to the prof's scholarly paper. ®