GM Volt to get regular software-style updates
'Blast, I've bricked the gearbox'
'Leccy Tech General Motors has given some insights into how it plans to squeeze every last mile from the Chevrolet Volt's battery back - and how it hopes to develop the model.
According to Frank Weber, "vehicle line executive" for the Volt's Voltec propulsion system, it's all about "maximizing its mechanical, electrical and thermal efficiency. From the Voltec propulsion system down to individual components such as tires or sound systems", he said during a presentation at the Chicago Motor Show.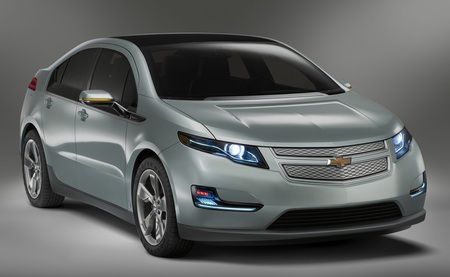 GM Volt/Ampera: software-style updates programme
To start with, the Volt - to be called the Ampera over here - will come with Goodyear Assurance Fuel Max energy-efficient tyres which, according to GM, will alone add a whole mile to the Volt's battery-only driving range.
Goodyear claims to have "packed performance features into the tyre to enhance the Volt's fun-to-drive characteristics". Hopefully, that means a move away from the usual feature of economy oriented tyres being about as much fun to drive on as a set of 1950 cross-plies.
The Volt will also see the début of a Bose sound system that's also heralded as "energy efficient" and said to be 30 per cent smaller, 40 per cent lighter and to use half as much energy as conventional Bose sound systems do.
More interestingly, Weber told the audience that the Volt will see important and major "updates" during its production run. "This is almost like getting software updates into your car... this is not a mechanical world... you get updates, improvements much more rapidly."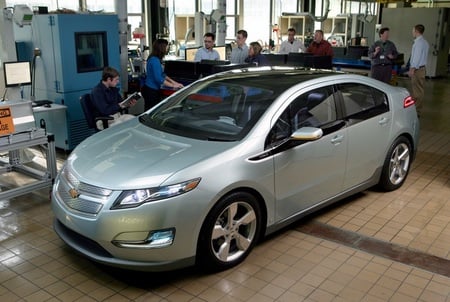 Dunno, mate - I think you need Service Pack 3, but it's not out of beta yet
Much as we like the idea of software updates for our cars – assuming they don't take two hours to load, only to brick it or disable the stereo and gearbox – we are taking this to mean that rather than be launched, then face-lifted, then replaced over a four- or five-year model cycle, the Volt will go through various same-model updates during its lifespan.
We can see the used-car ads now:
For Sale. Chevy Volt 1.3.1 SP2.
Weber also said that the priority for engineers working on the Voltec power train is not to get more power or endurance from the current 181kg battery pack – GM reckons 40 miles of battery-only endurance is more than sufficient - but rather get the same performance from a smaller, cheaper unit that can then be used in Volt 1.1 or 1.3. ®