This article is more than 1 year old
Intel's future Xeons to share sockets
Westmere mobo tock but no tick
We know what's coming on desktops and notebooks. But what about Intel's 32 nanometer server silicon?
Intel's 32 nanometer process will be used to make a family of desktop, laptop, and server processors known as "Westmere," kickers to the Nehalem chips that will roll out throughout the year. Earlier this week, the company divulged that it was pulling its ramp to 32 nanometer chip making processes into 2009 for desktop and laptop processors, and it gave us a pretty idea of what these chips will look like.
What Intel didn't say is how it will deploy cores or crank up clock speeds on 32 nanometer server chips. Intel has some interesting options, as the Nehalem and Westmere desktop and laptop chips show.
On its desktop lineup, Intel is taking two different paths. With the Nehalem chips, which are implemented in its current 45 nanometer processes, the company is deploying quad-core "Lynnfield" chips, which have two threads per core, and it will offer a similar "Clarksfield" chip for laptops. These chips are similar to the current Core i7 desktop chips, which have been shipping for high-end desktops since last November and will arrive in volume this year across the full PC spectrum.
In the second half of this year, Intel is going to use the 32 nanometer shrink not to increase the core counts in its desktop and laptop chips, but rather to move an integrated graphics controller onto a two-chip package. The future Westmere desktop and laptop chips will have only two cores, and the main memory controller that is integrated on the Nehalem chips is being moved over to the graphics controller that will sit beside the Westmere two-core chip.
That graphics chip and memory controller will be implemented in a 45 nanometer process, which will undoubtedly deliver higher yields and lower costs than if they had been done in 32 nanometer processors as a single chip Westmere package. The processor and graphics chips on the Lynnfield and Clarksfield packages will be connected by a QPI (Quickpath Interconnect) link.
Server processors do not need to have integrated graphics chips on their packages, unless you want to use the GPU as a math co-processor. (Not a dumb idea, provided the programming model is easy). Even if Intel doesn't want to do that, the 32 nanometer shrink for Westmere Xeons could allow the company to do all sorts of things: add more processor cores in the same thermal envelope, crank up clock speeds to boost single-thread performance while holding core counts the same or even decreasing them, or integrate other features (such as network controllers) into the chip package.
In addition to the Westmere roadmap this week, Intel confirmed that the launch of the Nehalem EP processor for two-socket servers was imminent. It's expected before the end of this quarter. The Nehalem EPs (aka Xeon 5000s) will plug into the Tylersburg server platform and use a chipset by the same name, as this roadmap shows: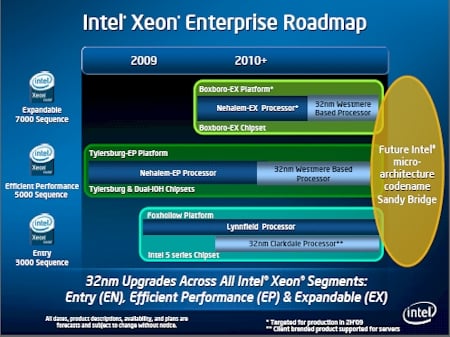 Back in November, we gave you the feeds and speeds on Nehalem EP motherboards from Super Micro, which makes boards as well as whitebox servers that it and other vendors sell. The Nehalem EP chips, which sport integrated DDR3 memory controllers and which will be the first servers to use QPI, are expected to have somewhere between three and four times the memory bandwidth of existing Xeons and their antiquated front side buses.