Review Linksys has always been one of those dull, boring companies that makes dull, boring networking products for business users. But since its takeover by networking titan Cisco in 2003, Linksys has slowly tried to turn itself into a more consumer-friendly firm - all the better to grab a slice of the burgeoning home networking market.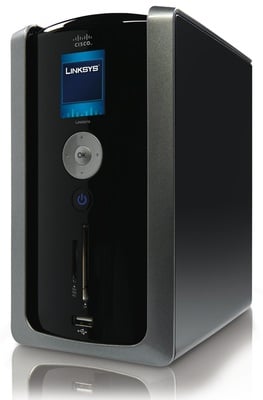 Linksys' Media Hub: ready to take on ReadyNAS?
In fact, Linksys' official name these days is 'The Cisco Consumer Business Group', though it's kept the Linksys brand to slap on its packaging as that sounds a bit catchier.
As part of its move into the consumer arena, Linksys recently released a range of wireless routers with trendy flying-saucer designs, and even took the unprecedented step of acknowledging the existence of the Mac. Now Linksys is making a serious bid for the 'digital home' market with its new range of Media Hubs.
In essence, the Media Hub is a glorified NAS drive that can be shared by multiple users on a home or office network. Once it's installed you can treat it as an ordinary network drive and copy files back and forth simply by dragging and dropping. If you're using a PC, the installer program can automatically assign the Media Hub a drive letter, and the Media Hub showed up automatically on our Mac desktop. So you don't need to fiddle around with IP addresses in order to get the drive up and running. Linksys also bundles a utility called Shadow so you can schedule regular back-ups of all your files.
However, the Media Hub's emphasis is very much on storing media files and on playing those files through its custom web interface.

Dinky status display included - but the memory card slots are more useful
Our review unit was the NMH405 model, which costs £350 and is equipped with a 500GB hard disk, but there's also a 1TB model called the NMH410 that costs £430. Apart from the disk size, the two models are identical – there's a Gigabit Ethernet interface tucked around the back for connecting to your network, two USB 2.0 interfaces for plugging in additional storage devices, and a memory card reader so that you can quickly transfer photos from a digital camera.
Sponsored: Ransomware has gone nuclear