'Lenny': Debian for the masses?
Ubuntu without the straitjacket
Install gets graphic
Debian also offers a net-install .iso which includes the Debian installer and then downloads only the packages you choose to install, but unless you have a very fast internet connection, the net option will take quite a while. Interestingly, though we didn't test it, Debian also has a new option to install Debian from MS Windows (on i386/amd64 machines).
We opted to use the graphical installer on the DVD option and found that, while there may be prettier versions out there, Debian's gets the job done. The partitioner offers to use the entire disk, the largest contiguous free space, and LVM. We used the whole disk, but should you choose to use the manual option, it helps to have a basic knowledge of disks and partitioning since the installer does not offer any graphical disk sizing tools.
The other downside of the graphical option is you end up with the GNOME desktop. There's no option to install only KDE or XFCE. Lately, some of the larger distros like Fedora and OpenSUSE have added installer tools that allow you to choose KDE or GNOME, which is a nice touch. Sadly, Debian doesn't offer such tools, so if you want KDE or XFCE, you'll need to head into the advanced CLI-based installer.
Setting up our user account was a snap, and Debian offers scan any other DVDs, CDs, or network drives so that Apt can go ahead and install all your auxiliary software at once. We skipped on this option for testing purposes, but it can save you loads of time setting up your system, and we wish more distros had something similar.
After that, the installer will ask you to choose a number of pre-configured collections of software like desktop environment, web server, print server, file server, and a half dozen more. Obviously, there isn't as much control here as you'd find in the CLI installer, but again, it shows where Debian shines: options.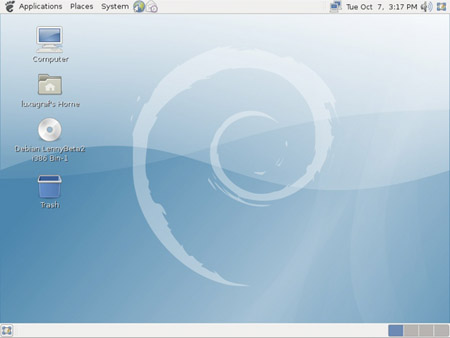 Any desktop you want, as long as it's GNOME
It would be nice if the installer provided some information about exactly what each of the options provides, but it doesn't. We assume that's what the CLI installer is for, choosing specific packages. In the end, we went with the standard desktop package (GNOME, et al) as well as the laptop option, the web server (Apache 2 and associated), and the SQL database package.
Once everything is installed, you'll boot into a Debian branded GNOME desktop that offers most of the usual GNOME tools and panels. Lenny was able to recognize our WiFi card right out of the box and had no trouble detecting and connecting to our network printer. Lenny also recognized our iPod and camera without a hitch.
The main problem you're likely to encounter with Debian is installing proprietary Nvidia graphics drivers. Unlike Ubuntu's "restricted drivers" option or OpenSUSE 11's "one-click install," getting the Nvidia drivers installed in Debian requires some manual effort.
The system was fast and very stable in our testing, on par with other major distros.
As for tweaking your system once it's set up, the ever-powerful apt-get package system makes installing and removing software a snap - just like in Ubuntu, and of course, there are plenty of CLI-based system configuration tools that you won't find in Ubuntu.
Overall, our experience with Debian was not nearly as painful as when we first tried it out five or six years ago.
We wouldn't recommend it for Linux newcomers since it requires more command line know-how than most, but for the seasoned user grown tired of Ubuntu's hand-holding, Debian makes a powerful step up on the Linux ladder. As always, Debian's customization options will likely ensure that it remains a popular choice for webservers, but Lenny makes for a powerful desktop as well. ®

'Lenny': Debian for the masses?