'Leccy Tech If the future of the 'leccy car is going to be built on in-wheel motors, it's looking more likely to be a case of Vive le France than Rule Britannia.
French auto engineering group Valeo and equally French tyre manufacturer Michelin have announced an agreement to "co-ordinate the development of electric and rechargeable hybrid vehicle systems such as the drive train, engine and battery cooling management, climate control, lighting, energy management and tires". And so put France at the forefront of electric car technology.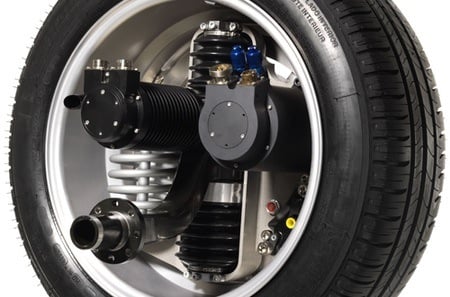 Michelin's e-wheel: hub of the matter
One of the key parts of the plan will be the further development of Michelin's Active Wheel Technology, a wizard idea that puts two electric wheels inside a wheel hub: one to provide motive power, the other to provide active suspension. Between them they negate the need for gearboxes, drive shafts, conventional suspension assemblies and a lot of other run-of-the-mill oily bits.
The possibilities this opens up were demonstrated, rather stylishly, by the Venturi Volage concept car which was unveiled at the Paris Motor Show back in October 2008.
Valeo and Michelin still need a mass-market car maker partner to turn their dreams into reality, but with Renault recently announcing what amounts to its withdrawal from the large car market – the next generation Laguna is heading for Madame Guillotine - and Peugeot Citroen needing a €3bn (£2.6bn / $3.9bn) loan from the French government to keep its head above water, the pressure to cosy up and get on with developing the next big thing has never been greater.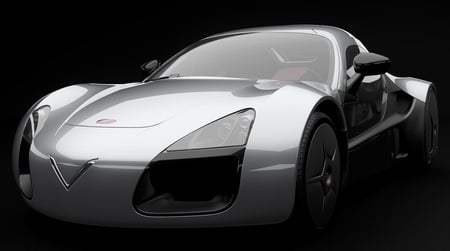 Venturi's Volage: hugs the road, actively
Just to keep everyone focused, Valeo CEO Thierry Morin recently said: "We may team up with a French firm or it maybe a Germany company." That should keep everyone on their toes at the Elysée Palace.
Michelin's in-wheel motors are not unique, of course. PML Flightlink's Hi-Pa Drive has already been seen in the prototype Lightning GT, a Ford P150 and Volvo's ReCharge concept. Unfortunately, PML Flightlink slipped into administration back in November 2008 - another plucky British engineering endeavour hitting the buffers.
Or so we thought. It now appears that PML is out of administration and owned by the "Electric Motor Works Limited". What exactly this means is a bit of a grey area, but PML did tell Register Hardware that "all the same people are still here", so hopefully a Lightning vs Volage head-to-head at the Top Gear test track in a few years time is still a possibility. ®
Venturi Volage Picture Gallery