MWC HTC today announced updates to two of its flagship touchscreen mobile phones, unveiling the Touch Diamond 2 and the Touch Pro 2.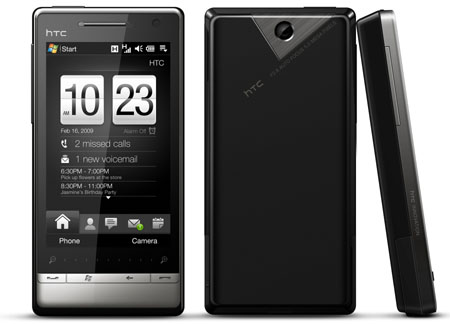 HTC's Touch Diamond 2:
Distinguishing between the two is actuallu pretty difficult, since both handsets mirror one another on features at almost every turn. Only looks truly separate them.
HTC's equipped both with what it called "Push Internet". The technology's designed to alleviate the "slow downloading and rendering" of web pages by allowing users to pre-select - and pre-load - their favourite sites.
The Diamond 2 has the smaller of screen of the duo, at 3.2in, while its sibling – the Pro 2 – has a 3.6in display. The Pro 2's screen also has the advantage of being able to tilt Xperia X1-fashion.
Both Windows Mobile 6.1 Professional devices are based on 528MHz Qualcomm chips, with 288MB of on-board memory. HTC's quipped both phones with its existing TouchFLO 3D UI that, apparently, "brings important information to the top-level UI, including quick access to people, messaging, email, photos, music and weather".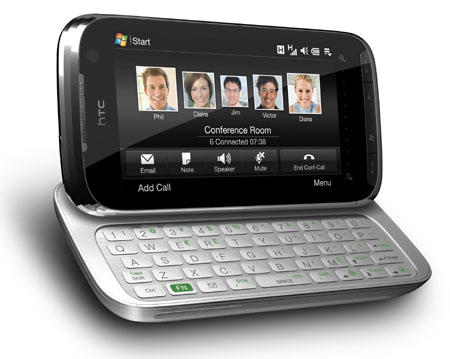 The Touch Pro 2: for fans of physical typing
Both devices sport 7.2Mb/s HSDPA 3G connectivity and quad-band GSM/GPRS/Edge. However, texting and surfing the web could be slightly easier on the Pro 2 because of its slide-out, five-row Qwerty keyboard.
One area where the phones do differ is photography. You'll get a 3.2Mp shooter on the Pro 2, but a 5Mp camera on the Diamond 2. Both include autofocus, but there's no mention of smile or facial recognition for either device.
A second, user-facing VGA camera for making video calls features on both devices.
Integrated GPS and Wi-Fi are present on the duo, as is Bluetooth 2.0 with A2DP.
Audio support is, again, pretty identical on each phone. Both support AAC, WMA and MP3 – to name just a few formats. Video compatibility ranges from WMV and MP4, to AVI and 3GP.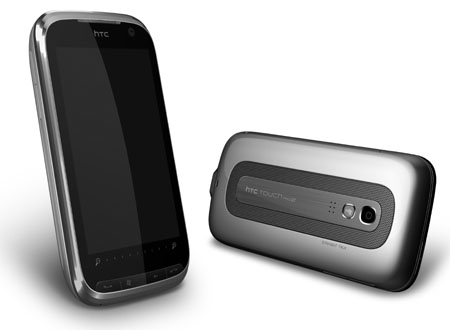 GPS, Wi-Fi and Bluetooth are all included onthe Touch Pro 2 (above), and also on the Diamond 2
Avid talkers will prefer the Pro 2's claimed 419 minutes of talk-time over GSM, but then the Diamond 2 will happily stand-by awaiting orders for up to 360 hours over GSM – the Pro 2 runs for 348 hours in standby. Video call-time on both handsets is 150 minutes.
HTC's Touch Pro 2 won't be available globally until early summer, but the firm will ship its Touch Diamond 2 out to Europe during Q2. Prices haven't been announced yet. ®