Review Windows Mobile smart phones have traditionally been the workhorses of the smartphone world – capable, versatile, but never likely to win any beauty contests. On the face of it, HP's brace of new iPaq handsets - the Voice Messenger, and this, the Data Messenger - would seem to fit all too neatly into that description.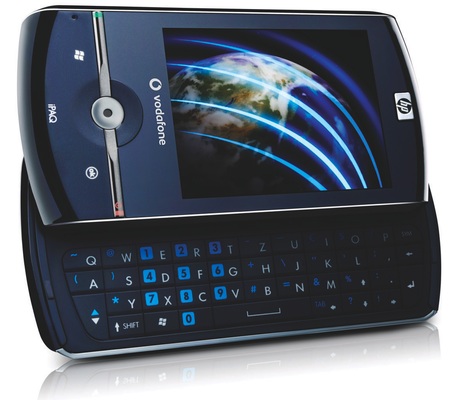 HP's iPaq Data Messenger: fugly?
Perhaps we've been spoiled by recent models from HTC. It broke the mould and produced handsets which look good and are fun to use, as well as delivering all the practical work stuff. But the basics, especially with a fairly hefty price tag attached, just don't seem to be enough anymore.
The Data Messenger is clearly intended as a business device, so it's excusable that style wouldn't necessarily be the first consideration, though the chrome flashes that break up the glossy black plastic casing have a certain appeal. But practicality is important for work and play alike, and this brick of a device is much more like a charm-free smartphone of old, weighing in at a hefty 160g and measuring a chunky 114 x 57 x 17mm.
Much of its size can be attributed to the slide-out Qwerty keyboard - which distinguishes it from the Voice Messenger - but others have managed to add such a useful component while keeping their handsets pocket-friendly.
Around the sides are volume buttons, camera shutter, messaging shortcut and screen lock buttons, plus a ringer on/off switch and a sturdy telescopic metal stylus. At the back, there's the 3.1Mp camera with an LED flash, all surrounded by a self-portrait mirror.
Beneath the screen are call start and stop buttons, a navpad and two touch-sensitive soft-menu keys, one for the Windows Start menu, the other for OK. The navpad deserves special mention, since it's the first example we've seen of an optical controller. There's a camera inside that measures your thumb's movements over it, like an optical mouse in reverse. It seemed sensitive enough and worked fine in practice.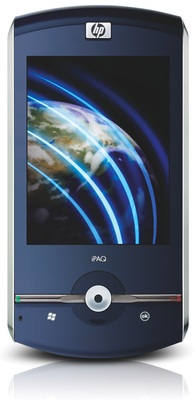 A decent-sized touchscreen
The touchscreen is a decently sized, 3in offering with 320 x 240 resolution and 65,000-hue colour palette. Standard fare in other words, but nothing wrong with that. Considering the size of the screen, it's a shame that the virtual numeric keypad is so cramped, due in part to the inclusion of unnecessary buttons. Why do you need a talk button on screen when you've already got a physical one on the front of the phone?