This article is more than 1 year old
Kensington Universal Notebook Dock
Ports, replicated
Review Laptops invariably lack a port you've been used to on a desktop. You have to buy a suitable adaptor or work around the missing connection. Kensington, maker of peripherals you never thought you'd need, has come up with a solution: a universal dock, needing just one USB connection to your portable.

Kensington's Universal Dock with Video: one USB in, lots of ports out
If you use a notebook or netbook in more than one place, you have the hassle of disconnecting all the peripherals you use with it: mouse, monitor, external hard drive, DVD drive and so on. By the time you've finished plugging them all in, your portable is a lot less portable. Fewer notebooks and netbooks these days have optional expansion docks, so a 'universal' dock is appealing.
Kensington has produced just that: an expansion dock with external VGA monitor link, four powered USB ports, headphone and microphone sockets, and 10/100Mb/s Ethernet. The whole thing connects through a single USB cable to any notebook with a socket to spare. It'll work with Windows XP, Vista and with Mac OS X 10.4.11 and above, but there's no specific support for Linux.
Built into a slightly wedge-shaped, 250mm-wide plastic case, the Notebook Expansion Dock with Video - to give its full name - has a rubberised pad on top so you can tilt up your laptop and increase the airflow around it. The tilt angle maybe OK on a larger notebook, but on an Asus Eee PC or Acer Aspire One it's rather steep and not that comfortable to type on. Better to position it behind the computer.
The video connection uses the proprietary DisplayLink system to compress packets of video data and pass them over the USB connection. They're then decompressed through DisplayLink hardware in the dock and sent out as a VGA signal. It's a shame there's no DVI output to cater for modern panels, but VGA does give the widest possible compatibility.
You can run the laptop screen and an external monitor as clones, so everything on the laptop screen appears on the external monitor, or configure them as one big desktop, where you can drag objects between the two. This mode takes some getting used to, if you're using, for example, a 10in netbook with a 19in LCD monitor. The video output supports resolutions of up to 1280 x 1024, and the external monitor resolution can be set independently from the laptop screen.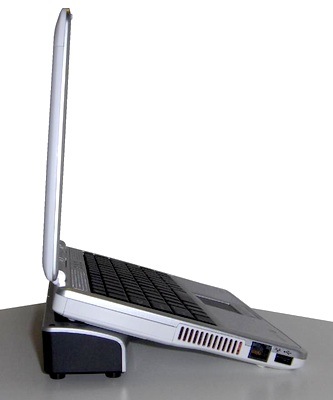 Doubles up a stand
In use, the external monitor was surprisingly responsive, and we had no trouble dragging objects between the two screens or in using the external screen for presentation playback with OpenOffice Impress, while controlling the slides from the laptop screen, using its touchpad or a USB mouse plugged into one of the dock's USB sockets.