This article is more than 1 year old
Hulu yanks vids from TV.com
OldTube networks collide
American web TV portal Hulu.com has yanked its content off CBS-owned TV.com following the site's recent relaunch as a potential rival for ad-driven streaming television.
Hulu is a joint venture between media giants NBC and News Corp. Both are CBS competitors, but Hulu signed on to TV.com early as a distribution partner. The pact worked because TV.com focused on being a community site based on user-created content that just happened to offer some syndicated content.
But CBS relaunched TV.com in January, hoping to transform the site from a TV-related fan site to a serious ad-driven web TV portal. The change seems to have worked. According to Nielsen numbers reported by MediaPost, TV.com had a 263 per cent increase in unique viewers that month.
That's apparently rubbed folks at Hulu the wrong way. TV.com users attempting to access Hulu-provided content on the site now get a "video not available" error.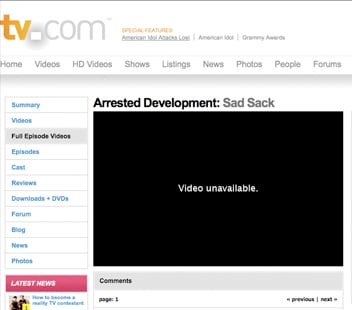 Hulu isn't willing to shed much light on the situation: "Hulu has contractual rights with regards to our relationship with TV.com and we are exercising those rights," it said in a statement. "Out of respect for their confidentiality, we will not disclose our discussions."
It would appear TV.com was at least somewhat unprepared for the change, given the site is still presently teasing pulled shows like "Heroes" on the front page.
While ties between rival US networks putting steaming content on the internet seem to be breaking up naturally, the UK has taken a more hands-on approach. This month, BBC Worldwide, ITV, and Channel 4's web TV plans were killed by competition regulators who said their proposed joint venture "Project Kangaroo" would give it too much control over ad pricing. ®