In Mac OS X 10.5 the drive appears automatically in Finder's sidebar, courtesy of Apple's Bonjour zero-configuration technology, from where you can mount the pre-configured Downloads and Public folders with a double-click. Nicely for Mac users, the drive support the Apple Filing Protocol (AFP) as well as the more Windows-friendly and cross-platform CIFS/SMB.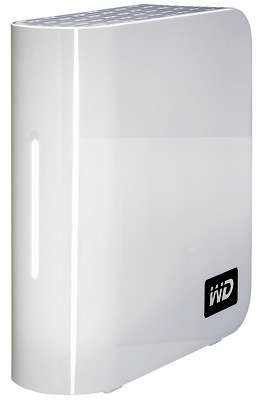 Shiny
Connect to the box using a Windows XP or Vista machine, and you'll see a pair of entries among the list of network devices: one that takes you to the admin console, and another that connects through to the management console for the My Book's built-in Twonky UPnP media server for feeding Xbox 360s, phones and the like. There's an on-board iTunes-oriented music server too.
The CD doesn't come with a UPnP client for the Mac, so you're left in the odd situation where, out of the box, the My Book's shares can be immediately accessed by a Mac but not a PC, but the admin consoles can be accessed immediately by a PC and not a Mac. To access the shared folders from a Windows machine, you need to know either the IP address or use tool WD bundles with the My Book to sniff out the shares and map them to drive letters for you.
But there's no bundled Mac UPnP client, so you can't easily get through to either the Twonky or My Book admin tools without knowing the IP address first.
WD also bundles automatic back-up tools for both Windows and Mac OS X - the My Book isn't compatible with the latter OS' own auto-backup system, Time Machine. You can install the software on five machines.
Freshly purchased, then, the My Book World Edition arguably meets WD's goal of being an easy-as-pie network storage resource. Anyone can plug it in by looking at the picture on the box. Installing the software on the CD completes the process and, once done, you're ready to share files and back up multiple machines.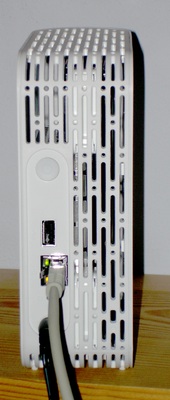 Gigabit Ethernet and USB 2.0 round the back
Well, almost. Mac OS X's network sniffer-outer is resilient to changes of IP address, but the shortcuts the WD Windows software puts in place rely on the initial IP address. Turn the My Book and router off overnight, and when they start up next time, the storage could, quite easily, have a different IP address, forcing Windows users to run WD Windows Discovery all over again.
Sponsored: Webcast: Ransomware has gone nuclear