Techies hankering for a more involved experience can head over to the management console, but it's by no means mandatory. If you do, you'll find the same system used on WD's business-oriented ShareSpace NAS box. There's a Basic mode that provides a pared back set of options for adding user accounts, managing the shared - and new, not-necessarily shared - folders, and engaging the remote access facility - of which, more later.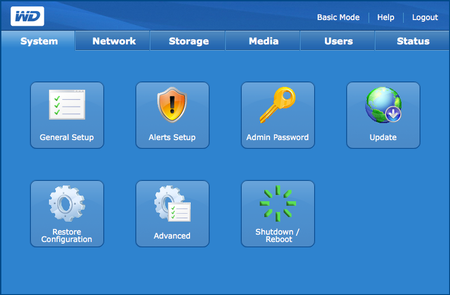 Deeper-level admin in Advanced Mode
Advanced mode lets you dig a little deeper: corral users into groups; apply storage quotas; disable the media servers and/or the various data-access protocols supported; apply firmware updates; and get notifications of problems. All solid sysadmin stuff, in other words, none of which consumers will need, or geeks, come to think of it.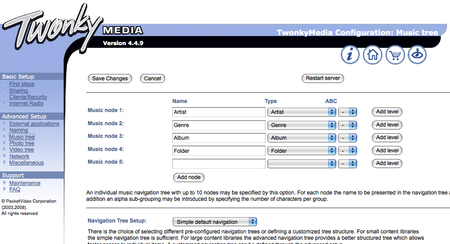 UPnP/DLNA server included
The management console's login screen also provides access to Copy Manager, which is used to duplicate the drive's contents on a USB-connected back-up drive or another NAS box. Yes, the letters N, A and S are mentioned, so WD hasn't entirely rid itself of the term. Only another WD NAS is supported here - the My Book didn't present the 500GB of Time Capsule CIFS storage on the network, though maybe that's because it's too small to back up the 1TB My Book on.
Alongside Copy Manager and Network Storage Manager (the My Book management console), the login screen also connects you to Downloader, the tool you use to schedule downloads the box will automatically grab for you. It'll only do http and ftp downloads - BitTorrent buffs will have to look elsewhere.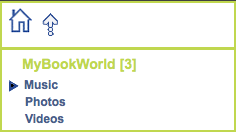 Access UPnP/DLNA from a phone
Downloader has different login details than the other consoles. We can't see why, on a consumer device, they're not all the same. Actually, we can't see why they're not all accessed from one, unified management console. Heck, we're not even sure if all these layers are necessary in a business-class device. If admins don't trust their own passwords why should they trust three?