So farewell, then, Asus' 8.9in Eee PCs. Another company executive has reportedly admitted they're for the chop.
Benson Lin, President of Asus' Asia-Pacific operation, is indirectly quoted by DigiTimes as saying the 8.9in Eees will the completely phased out during 2009.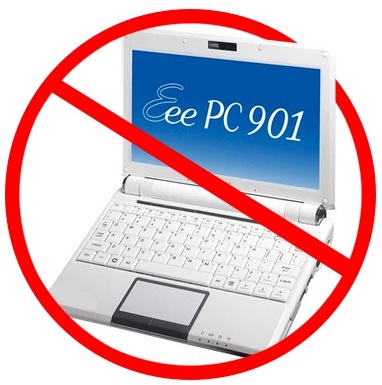 Asus' Eee PC 901: for the chop
Lin's comment, if accurate, echoes Asus CEO Johnny Shen who last year said exactly that. Asus UK shortly afterwards told us that Shen had been misquoted, but Asus HQ issued no such rejection, and since then other Asus executives have hinted as much.
According to Shen last year, the move is based on public preference for 10in models, fitted with hard drives rather than SSDs, and running Windows XP. In any case, Asus has way too many models and needs to pare its list. Still, we're surprised it's axing the 8.9in form-factor altogether. Why not just offer one of each?
Well, this way, Asus needs to produce fewer chassis, allowing it to focus on differentiating on features - SSD vs HDD; Linux vs XP - rather than size.
Interestingly, the 7in Eee will stay around, to be sold to telcos for bundling with 3G data plans. ®