HP to spruce EVA storage arrays
More capacity, new controllers, SSD goodness
---
HP is set to launch its upgraded mid-range EVA storage arrays featuring 80TB+ increases in capacity, new controllers, and solid state drive (SSD) support.
According to a training document seen by The Register, HP has already started briefing relevant employees, contract trainers, and partners across Europe. The launch is, according to sources, pencilled in for March 10th at the Waldorf Hilton, Aldwych, London.
The EVA range is the heart of HP's StorageWorks product line, fitting between the entry-level MSA (Modular Storage Arrays) and the enterprise class XP line. There are currently three EVA models: the entry 4400, mid-range 6100, and high-end 8100. The EVA4400 replaced the previous EVA4100 model last year.
The EVA6100 is a dual-controller model, holding up to 112TB with 1TB FATA drives. El Reg understands that its replacement, the EVA6400, will hold from 8 up to 216 drives, giving it a maximum capacity of 216TB if 1TB FATA drives are used. It can also use Fibre Channel drives and, from May 3rd, 72GB SSDs. Drive formats can be mixed. There can be 12 drives per enclosure, and the internal drive to controller linkage is 4Gbit/s Fibre Channel Arbitrated Loop.
The single rack cabinet EVA6400 has dual redundant HSV400 controllers, using PowerPC technology, in a 4U controller assembly, and 8GB of mirrored cache, double the EVA6100's cache. It supports RAID 0, 1, and 5 with RAID 6 and RAID 1+0 coming on May 3rd.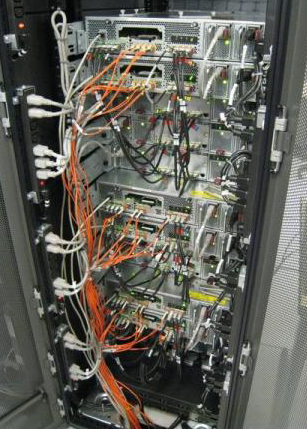 The EVA8400 (image right) increases the EVA8100 maximum capacity of 240 drives and 240TB to 324 drives and 324TB, again with 1TB FATA. Like the EVA6400, it can mix FATA and Fibre Channel and, from May 3rd, 72GB SSDs. RAID 1+0 and 6 will also be added on May 3rd. The EVA8400 is a 2-cabinet product, and the minimum starting drive number is 12. It uses dual redundant HSV450 controllers and can have 14 or 22GB of cache.
For both systems and the EVA4400 the maximum LUN size rises to 32TB on May 3rd. Oddly the 8400 can have 1024 LUNs, whereas the 6400 and 4400 can have 2048. Weird. The 6400 and 8400 have 4Gbit/s FC host interfaces, with 4 ports per controller, whereas the 4400 has both 4 and 8Gbit/s ones. Weird again.
There is no spin-down drive support, but it may be coming. Also there is no SAS hard drive support, as there is in the MSA product line, HP having chosen not to introduce SAS to the EVA line via an FC-SAS bridge. It pegs its EVA8400 competition as IBM's DS5300, EMC's CX4-960, and HDS' AMS2500. Nosurprises there.
We have no pricing or availability information for the new EVAs.
HP may also launch a new disk-to-disk backup system, the D2D4112, with 9TB of usable capacity compared to the D2D4009's 7.5TB. This is achieved by using 1TB SATA drives instead of 750GB ones. That launch could be in March too.
On a more general HP storage future note, the company could be thinking about a merger of monolithic and modular storage starting later this year with a possible merger of block and file access in 2010. What interesting times we live in. ®