MWC Camera firm Jabil has showcased an 8Mp camera module with a physical shutter. The firm hopes it could soon make its way into smartphones.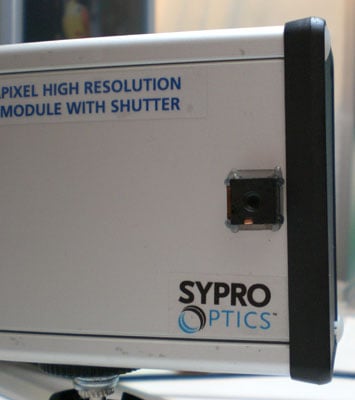 A working model of Jabil's 8Mp cameraphone module with physical shutter
The module measures 10 x 10 x 8mm and has a moving blade-style shutter that prevents light from entering the lens until you've press the shot button. It also has an autofocus feature.
Leaving aside the obvious niggles about moving parts on phones, Jabil told Register Hardware that its module eliminates a range of picture problems, such as blurring or ghosting, which are common on cameraphones with electronic shutters – like the iPhone.
"Everyone wanted this technology for 5Mp cameraphones," a spokesman at Jabil claimed. "When you get up to 12Mp [on phones] then you need the advantages of a physical shutter cameraphone."
Size constraints have prevented integration into 5Mp phones until now, but he added that the technology's now small enough to be put into super-snapper smartphones.
Cameraphones with physical shutters already exist in Japan, Jabil said. But the future for such devices in the UK looks rosy, with futuristic Japanese network provider NTT DoCoMo having already invested in similar technology.
Jabil is currently talking to phone firms about possible integration of its technology into a range of handsets. ®