Review After some flash for your cash? Hot on the well-turned heels of LG's new Prada phone, Samsung and Armani have delivered their latest ensemble - the Emporio Armani Samsung Night Effect.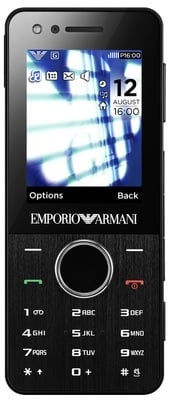 Samsung's Emporio Armani Night Effect: sophisticated?
Rather than reworking last year's elegant Giorgio Armani Samsung touchscreen collaboration, this model takes a distinctly different approach to design. Tall, thin and smooth, with brashly lit edging, this otherwise sophisticated-looking candybar phone is designed for younger fashion-savvy buyers.
The branding certainly isn't subtle. As well as logos on the front and back, a stand-out Emporio Armani neon strip lights up the side of the phone - part of the glowing blue, red or green LED trim that appears around the edges when the phone's in action. No one'll miss what phone you're packing, that's for sure.
While the design is eye-catching, the features roster is more solid Samsung mid-tier than trend-setter. It's a 3.6Mb/s HSDPA 3G handset sans Wi-Fi but with a typical tick-list of music and movie download and playback facilities, plus a set of dedicated music player control buttons and a 3.5mm headphone socket on the side. A 3.2Mp camera with autofocus - but no flash - is built into the back, and there's a front-facing face-to-face video chat camera.
Naturally, you get plush Emporio Armani-branded accessories: a CD-style fabric zip-up carry case, neckstrap and earphones.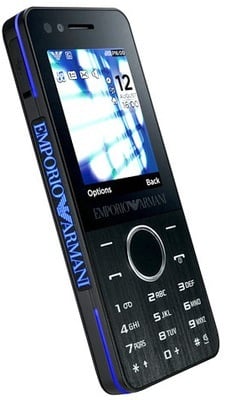 Glows blue...
Apart from the dazzling light effects and overt branding, the phone's design is relatively restrained. Available in minimalist black or white bodywork, the candybar's numberpad is totally smooth, finished with a fine hairline-metal effect. Rubber-feel material is used on the back, giving it a decent grip in the hand, while reinforced glass protects the display. Measuring 114.9 x 47.4 x 12mm and weighing 90.2g, it's well balanced to operate one-handed.