Running in a thin strip around the phone, that hard-to-ignore neon piping comes into play when the phone is active, pulsing when you're making or taking calls, pressing buttons and so on. It can easily zap between retina-searing red, green and blue hues - although if you prefer your phone not to be spotlighted by that city-lights-at-night effect, you can switch the illumination off.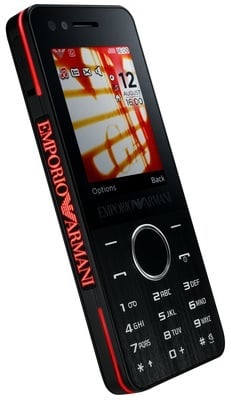 ...red...
The screen is average-sized rather than lavish: a 2.2in and 320 x 240. It's an OLED panel and is sufficiently bright and clear for eyeing content, and for showing off the tailored Emporio Armani themes and wallpapers that come pre-loaded.
Despite its snazzy click wheel-style look, the navigation control panel doesn't do any fancy twirly stuff – it's a straight up and down, left and right navpad. With no separate buttons defined on the level surface, using the numberpad accurately depends on your own digital dexterity.
On the Vodafone-exclusive version of the phone we tested, the soft-menu key set-up was problematic. Unlike on the SIM-free model, where the right soft-menu key is pre-set as a handy phonebook shortcut, it's here designated to the Vodafone Live! portal. That means there's no one-touch button for accessing your phonebook, as there are on most handsets. It's an irritating oversight.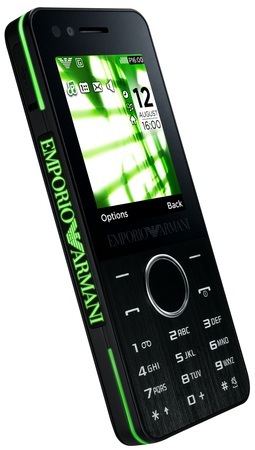 ... and green
Thankfully, it's easy to re-assign one of the five on-screen shortcuts. These are pre-set for new text message, music player, ringtone profiles, calendar and external edge-light colour. We'll leave you to work out which you can best afford to swap. All of these shortcuts can be reset, though we're surprised someone at Vodafone HQ didn't consider the phonebook a priority option.