There is a Samsung 'search as spelling' option for finding contacts, whereby you tap out the number keys relating to the name you're after - though it's no phonebook replacement.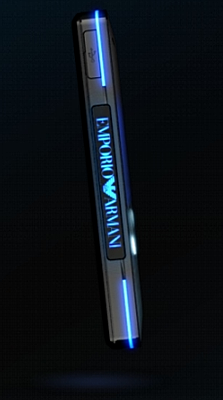 Dark Knight phone?
If you don't mind a few button presses, you can also access your contacts from the main menu. The main menu is set from switch-on as a V-shaped carousel of options you can toggle through using the navpad, though this can be switched easily to a conventional grid format. Dipping further into sub-menus, you get assorted sub lists and folders in normal Samsung style.
Accompanied by a panel of three music control buttons and a 3.5mm headphone socket on the right side of the phone, the music player is one of the more prominent features of the Emporio Armani phone.
Interestingly, as well as the 3.5mm headphone plug, Samsung has included a Mmicro USB charger/USB/earphone multi-connector socket on the other flank, which means you can plug in and use two pairs of earphones simultaneously if you want to share your tunes with a friend.
Samsung's EA-branded earphones are a two-piece handsfree set, with another 3.5mm adaptor mid-way. The in-ear buds are a notch above regular mobile 'phones, and fit snugly for good quality, well-rounded sound. There's plenty of low frequency punch, and it puts in a fine, nicely balanced audio performance.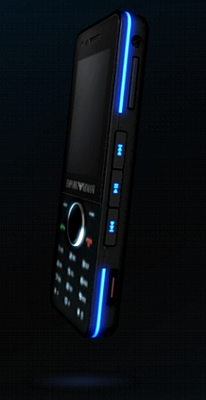 Dark night phone?
The player user interface is familiar Samsung: a roster of regular tune categories and support for cover art. It can be operated by the navpad or the dedicated controls. These side buttons come into their own when tunes are played in the background, while you're multi-tasking your way around other features.