Tracks can be synced with Windows Media Player 11 on a PC, copied across using Samsung's PC Studio app, dragged and dropped in USB mass-storage mode, Bluetoothed over, or simply copied on to a Micro SD card and slotted in. The 120MB of on-board storage is boosted by a 1GB Micro SD card that comes boxed with the handset, and cards of up to 8GB capacity are supported.

Dedicated music controls and a 3.5mm jack on the side
As well as the tune-player, embedded music recognition software from Shazam is included for naming tunes. It records short song clips and remotely interrogates the track database before delivering the track details back in moments, along with cover art. An FM radio does a serviceable job too with the headset connected, and can play back OK thought the phone's speaker.
The Vodafone version of the Emporio Armani is preloaded with links to a spread of Vodafone 3G services, including streaming and download options from Vodafone Live!
As we've said, the EA's screen isn't the largest in town, but video comes across reasonably well. H.263, H.264, MPEG 4 and WMV files are supported.
Its video shooting efforts are surprisingly modest, however, recording at maximum 176 x 144 pixels at up to 15f/s, producing typically unimpressive footage for a low-res cameraphone.
The main camera does a reasonable job for its class, although you'll notice the absence of the flash when you want to take a snap at night or in a poorly lit room. The autofocus-equipped shooter fires up in a couple of seconds after press of the side-mounted shutter button, and automatically flips into landscape viewfinder mode.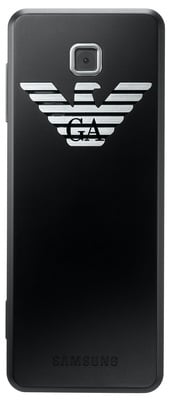 Flash-less
The two-step autofocus works efficiently, and snaps without significant lag. Close up shooting is possible too, and you can get good results with the tight focusing area. Generally, shots come out reasonably well in decently lit environments - colours are natural and accurate. However, indoors and low-light shooting isn't quite so good, with more picture noise creeping in.