This article is more than 1 year old
NASA talks little green men with Vatican
God, it's me! Xeloclump from planet Zerclumph!
It's a good time to be a Catholic and a cosmologist. Heretic stake burnings are at an all-time low, and the Vatican has even warmed to the idea of ETs out there in the infinite expanse.
So, it was a notably un-charred and still-communicated Father George Coyne, former director of the Vatican Observatory, who stopped by NASA's Ames Research Center Thursday night to chat about the possibility of life on other plants.
The verdict's still out of course, pending solid evidence or otherworldly visitation, but Coyne seems extremely open to the possibility. It's a fertile universe after all.
Coyne was joined NASA Ames Center astrobiologist Lynn Rothschild at an evening discussion for the Commonwealth Club and the Yale Club of Silicon Valley. Curiously enough, Coyne spent his time talking about the possibilities of life outside of Earth while Rothschild focused on its limits.
The trick with most space-bound concerns is that the universe is so extremely large and old. About 159,302,326 times as old as Golden Girls' Bea Arthur, in fact. So, to put the entire final frontier into perspective, Coyne preferred to condense the universe's timeline into something a bit more manageable.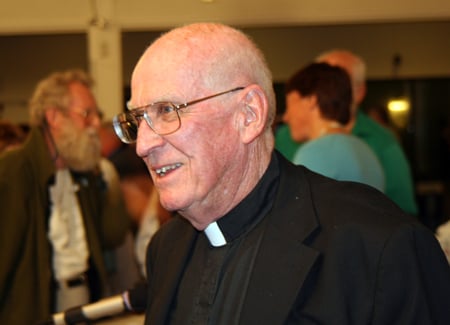 Father George Coyne
Suppose we took our 13.7bn-year-old universe and condensed it to the age of a single year, illustrated Coyne. If the big bang occurs January 1, it's not until September 4 that life on Earth begins. Dinosaurs debut on Christmas day and the first humans don't arrive until 11:58 pm. In that same minute, Jesus is born, said Coyne. One minute later, Galileo observes a heliocentric galaxy and spends his last years under house arrest by orders of the Inquisition.
"The age of the universe is so large in comparison to any history we have, this is what happens when we make it comprehensible to us," said Coyne.
"I've never met a humble or modest astronomer, but we should be," cracks Coyne. "We've been studying a universe that's a year old, and we've been doing it for one second with modern science. So if we don't know everything, give us a bit more time."
But if the Jesuit priest believes extraterrestrials could be out there, where does God fit in? Do little green men read little green Bibles? Will Earth ever get missionaries from the Church of Laser-day Saints?
Going back to his one-year universe model, Coyne again must shrug his shoulders. "All our religious traditions — all I hold dear — God has been speaking to us for two seconds. So, if there's intelligent life, if God did speak to them, I don't have the slightest idea. I haven't absorbed what God has said to us in the last two seconds."
Coyne isn't one to shy away from scientific certainty when there's evidence to go on. Although he left his 30-year post at the Vatican with honors, the American Jesuit priest is believed to have been removed after repeatedly contradicting Pope Benedict XVI's endorsement of the "intelligent design" hypothesis.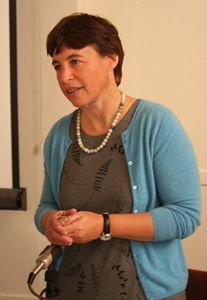 Lynn Rothschild
The question of whether life outside Earth can exist is made more difficult by the fact that we don't know how life here jumped the gap* from inorganic chemicals to Paris Hilton.
Rothschild outlined some of the prerequisites we know about for life as we know it: a healthy amount of carbon, hydrogen, oxygen, as well as a solvent to work the biochemistry like liquid water. Then we need to worry about the proper PH value, salinity, desiccation, chemical extremes, pressure, and radiation.
Then there's time. "We have no idea how long it takes for life to arrive," said Rothschild. "Life by definition is very complex, so we have this feeling that it takes an enormous amount of time -- but it could be simple."
"We do not know yet the jump from the conditions of life and life itself," concurred Coyne. "We don't know the origins for life under our own feet."
Coyne says his faith and science don't need to be contradictory terms. "There is a measure of faith in science," he said. For example, "I trust the age of the universe is 14 billion years when I do my science."
"But the truth is not democratic," Coyne continued. "There's an interplay of being skeptical, but you can't do anything if you're skeptical about everything." ®