A fuzzy photo of a purported new Mac mini appeared in a MacRumors forum post, and the resulting rumor instantly made the rounds of the MacRumors news page, Ars Technica, AppleInsider, Cnet, Gizmodo, 123Macmini, SlashGear, VentureBeat, and Electronista
For all we know, Al Jazeera's tech desk is about to post it any moment now.
Rumors are the life blood of the Apple subculture. Hardware rumors are especially valued. And rumors-with-photos are prized above all else.
And so we'll play along.
The photo (below) shows the rear end of a purported Mac mini with five USB ports, FireWire 800 and Ethernet ports, audio-in and -out ports, and both a Mini DisplayPort and a Mini DVI port.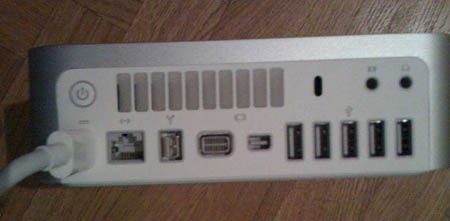 Our thanks to "monthy," by way of MacRumors
The original leaker, who identified him or herself as "monthy," claimed the Mac mini's specs include a 2GHz Intel Core 2 Duo with 3MB L2 cache, 2GB of DDR3 RAM, and that the "Super Drive is SATA."
Sounds fishy to us. For one thing, Apple has always used ATA DVD-RW drives (which they call SuperDrives) - presumably for cost reasons. But that might change.
Also, the current Mac mini has a single gigabyte of RAM, and Apple, wanting to keep the cost of its entry-level Mac low, would most likely stay at that RAM level.
Then there are those two display connectors. Why would Apple up the cost of the li'l guy by including both?
But the biggest reason that we believe that this photo doesn't presage the imminent arrival of a new Mac mini is best summed up by a recent comment by analyst Tripp Chowdry, who was quoted by Brian X. Chen on his Wired blog as saying: "In this environment where nobody is buying anything and you come out with a kick-ass product, you might get a lot of wows and woos, but that does not convert into sales. So that's a wasted effort."
Now's not the time for a product intro - not even of a low-cost item such as a new Mac mini. ®
Similar topics