This article is more than 1 year old
Canon PowerShot G10
The Holy Grail of bridge cameras?
Review Camera manufacturers are forever searching for the Holy Grail. They know there's a vast army of people out there who want a camera that's small enough to slip into a pocket, but which also delivers top-notch performance that's closer to a digital SLR than a compact.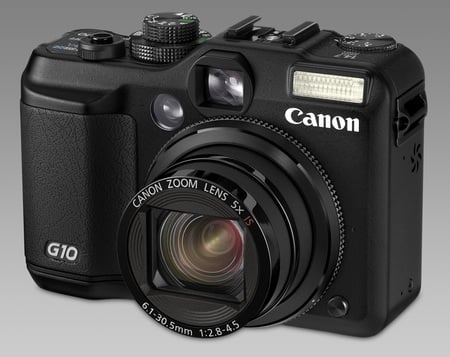 Canon's PowerShot G10: photo geek friendly?
Hence the avalanche of hybrid/bridge/superzoom models on the market. Canon's contribution is the PowerShot range, which has been well received by enthusiasts looking for portability. The PowerShot G10 is the latest offering and the question is: has Canon finally found the Holy Grail?
If you've ever used the PowerShot G9, you'll find that the G10 looks reassuringly familiar, although there a few design tweaks. And the G10 is larger - 109 x 77.7 x 45.9mm compared with the G9's 106.4 x 71.9 x 42.5mm - and heavier: the G10 weighs 350g without battery and card, compared with 320g.
Canon has also changed the optics on the G10, offering a 5x optical zoom with a 6.1-30.5mm f/2.8-f/4.5 lens - equivalent to 28-140mm on a 35mm camera - compared with the G9's 6x zoom and 7.4-44.4 mm lens, equivalent to a 35-210mm on a 35mm. No doubt Canon's marketing department was a little peeved by the apparent downgrading of the G10's optics, but we think Canon has done the right thing by offering an improved wide-angle offering.
There's also another big difference: whereas the G9 packed 12.1 megapixels onto a 1/1.7in CCD, the G10 has 14.7 megapixels. Now that doubtless pleased the marketing bods, but packing so many pixels on the same-sized CCD can cause all sorts of noise problems. But Canon claims that its DIGIC 4 image processor really does keep noise levels down.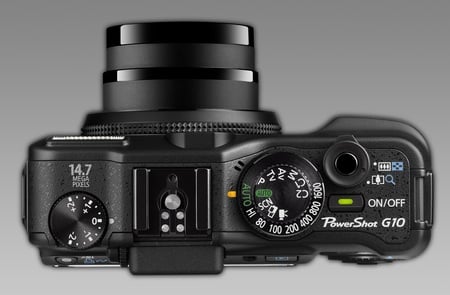 You want controls? We got controls
Let's take a quick gander at the G10. The first thing you notice about this chunky camera is the cornucopia of buttons and dials – if you prefer making manual adjustments to fiddling around with menus, you'll love the G10. Starting at the top and working left to right, we find an exposure dial, hot shoe, ISO dial on top of which is the mode dial. Next to this is a power button, and in front, the shutter button and zoom lever.