Canon PowerShot G10
The Holy Grail of bridge cameras?
---
The G10 has a solid metal body and is nice to hold, even if you have large hands. If you have a large coat pocket, the G10 is highly portable – just don't try slipping it into a shirt pocket. Switch-on is fast - around 1s - and shutter lag minimal. We really liked the numerous buttons and dials, making it very quick and easy to adjust many parameters without having to resort to menus.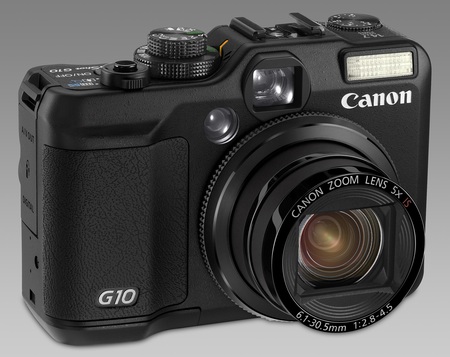 Bees knees?
That said, you still get the familiar Canon tabbed set-up menu and L-shaped function menu, which you can scroll through very quickly using the selector dial. The dial is also used for adjusting shutter speed and aperture in manual and semi-manual modes. Manual focusing, however, was a little fiddly, thanks to a combination of tiny zoom lever and slightly over zealous zoom motor that makes fine focusing difficult. We also wish Canon had made the shutter button a tad larger.
The addition of an optical viewfinder is to be welcomed, although the G10's only shows you around 80 per cent of the scene. We liked the LCD display, which provides lots of information without looking cluttered. It's also clear and bright.
Performance-wise, we were very pleased with the results. Resolution is sharp, colours are rich and, despite over-dosing on pixels - noise levels are low, provided you stick to the lower - 200 and under - ISO settings. In short, you can get some stunning images with the G10.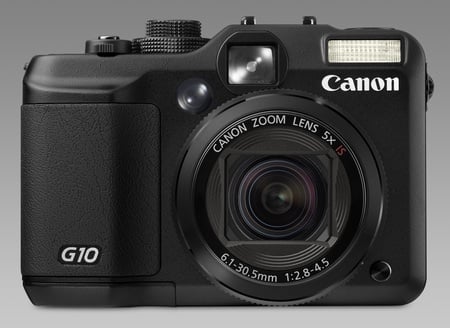 Too many megapixels for its own good?
That said, the continuous shooting mode function was disappointing, although the video mode produced good results. We noticed a fair bit of what serious snappers call 'purple fringing' - you can see it in the full-size sample images. Low-light shooting was disappointing and no doubt those smaller pixels accounted for a fair amount of the noise.
The macro mode, which lets you shoot just 1cm away from an object, worked very well and the G10 soon locks onto the object. The wide angle lens is a welcome addition and so is the panoramic mode, which is very easy to implement.
Verdict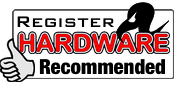 Canon's PowerShot G10 is a polished, pocketable performer that offers a high degree of manual control, along with good performance and easy operation. Sure, it does some things better than others, but we think overall, it does an excellent job. The official price is high, but you can buy it for a lot less if you shop around.
The G10 isn't the Holy Grail of hybrid/bridge cameras, but it comes darn close. ®
More Camera Reviews...
| | | | |
| --- | --- | --- | --- |
| Pentax K-m | Panasonic Lumix DMC-G1 | Nikon D90 | Fujifilm FinePix S100 FS |

Canon PowerShot G10
A polished, pocketable performer that offers a high degree of manual control, along with good performance and easy operation.