It's official: Humanity has truly reached the zenith of its technical achievement - a peak after which interstellar travel, desktop cold fusion and stem cell cures for cancer will be as nothing compared to the awesome creation which is the infrared express bra-drying appliance: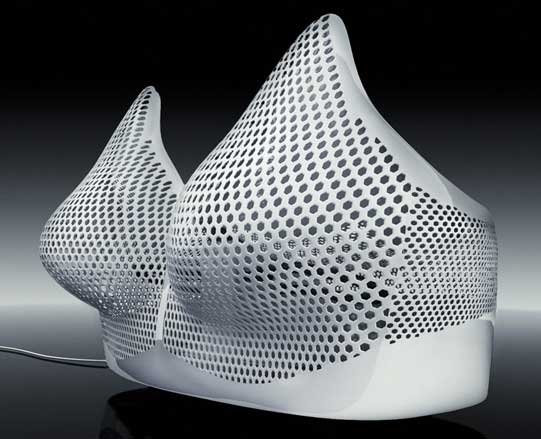 Here's how the patent-pending Bra Dryer will change your world, that of your children, and that of your children's children, to boot:
Bra Dryer is a simple device which is based on the presumption that the best way to dry bras without ruining their fabric, wiring and padding is to dry them on a shape which resembles female breasts. That's why Bra Dryer is shaped like a female torso.

A very gentle infrared (IR) heat source helps evaporate moisture from the bra fabric while silent fans inside the appliance help remove this moisture.

In short, Bra Dryer will do this:

Dry bras faster
Preserve bra shape
Free your time

...instead of doing this:

Damaging bras (as in conventional dryers)
Taking too long to dry (when you air dry it)
Taking your time (when your dry it with a blow dryer)
Terrific. Remember, if you're in the habit of splashing out "$500 - $700 for a couture bra from Guia La Bruna or I.D. Sarrier", then you really "should take a good care of it". It's like buying a car, you see, because "if you have a nice car then it makes sense to put it in a good garage overnight and to make sure it gets necessary maintenance".
Well quite. The same could be said of a nice pair of jubs, we suppose, in which case yes, by all means buy a Guia La Bruna brassiere for overnight garaging. Better still, buy two and use one while the other's drying. That way, mankind can avoid wasting valuable resources developing bra dryers and get back to the serious business of developing wobbling chesticles for the iPhone. ®