This article is more than 1 year old
iPhone app simulates political corruption
Be like Blagojevich
You now can practice the skills of a corrupt Chicago politician, thanks to a new game that appeared Thursday on Apple's iTunes App Store.
Inspired by the saga of the ex-Grifter Governor of Illinois, Milorad "Rod" R. Blagojevich, Yanki.jp's iPhone and iPod Touch game, Pay2Play (App Store link), gives you 30 days to "pay back the unions, make tons of cash, and get out of town before getting impeached."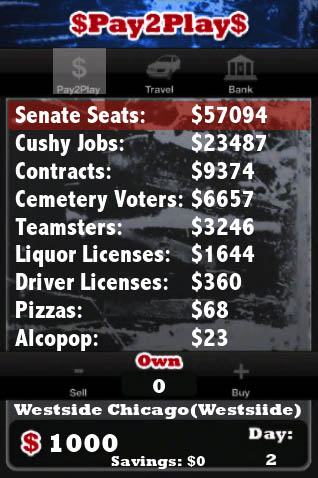 As Blagojevich said, a Senate seat is "bleeping golden"
And Yanki.jp is charging only $1.99 for the game - as if poor Milorad hasn't been humiliated enough.
First the LA Trends Examiner publishes a "Top 10 List" of Blago's future prison nicknames. Then The New York Times reports his self-aggrandizing nickname for his precious Paul Mitchell hairbrush. Then he embarrasses himself on the Late Show with David Letterman. And finally The Daily Show's John Stewart dubs him "Scumdog Million-Hairs."
And now there's Play2Pay, described by its creator as "a time honored tradition as old as voting early and voting often."
It's been a tough last few months for the former pizza-delivery boy. ®