A division of the mega-music multinational Universal Music Group (UMG) has introduced a new way to seduce music lovers into spending more on digital-music downloads.
This latest attempt of UMG to tap into the digital-music money machine comes close on the heels of the recent shutdown of Total Music, a subscription-based music service that UMG founded back in 2007 as a competitor to Apple's obscenely successful iTunes Store.
Unfortunately for UMG and its partners, however, Total Music - even after garnering powerful partners such as Sony BMG - was a total flop.
Now UMG is trying another tack. One of its divisions, Interscope Records, has released five free music-delivery applications for the iPhone and iPod Touch, now available on the iTunes app store.
These apps are enablers for digital-music impulse buying. Each is specific to a recording artist in the Interscope stable and provides fan-oriented "up-close-and-personal" videos plus an RSS reader for breaking news about the artist and user-interaction features such as the ability to chat with other fans and comment on and rate concerts.
Most important to Interscope, however, is that the apps make it easy to purchase music without having to search for it in the iTunes Store.
To build the apps, Interscope used the Kyte iPhone Apps Framework, which Daniel Graf, Kyte's CEO claims is designed to "keep fans coming back again and again to see what's new and interact with each other."
And to buy music and other artist-related merchandise. Interscope is betting that they will, seeing as how they are offering the apps for free.
The five artists in this test roll-out are the All American Rejects, Keri Hilson, Lady Gaga, Pussycat Dolls, and Soulja Boy Tell 'Em (iTunes links). Each of the apps includes both current and archived video content from each of the artist's video blogs, such as the Pussycat Dolls' PCD TV, although Soulja Boy Tell Em's Kiss Me Thru the Phone long-distance-love app remains a $.99 standalone option.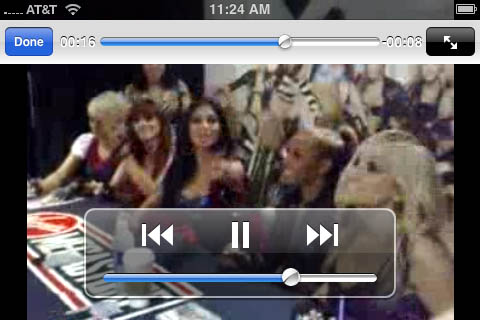 You need to be a big PCD fan to put up with video and audio quality this bad
To test whether UMG's latest attempt to cash in on digital downloads has a better chance than Total Music, we took a look at the Pussycat Dolls' app and found it to be worth exactly what we paid for it: zero. The videos are amateurish and poorly compressed, and there are no songs or music videos other than tiny snippets.
The one part of the PCD TV app we downloaded that worked seamlessly was the money hook: purchasing music through a prominent link to the iTunes Store, which closes the app and opens the Store in Safari, pointed precisely at the tunes UMG wants you to buy.
The Interscope/Kyte partnership is not the only music-video partnership in the iTunes Store, of course - there are hundreds of music videos available, for example. Also, the Presidents of the United States of America just released their own $2.99 iPhone app (iTunes link) based on Melodeo's nuTsie music-streaming technology.
But UMG is betting that the new Kyte technology will help them build fan communities who will use the chat and RSS features to share fan froth and stay up-to-date on artists' concert schedules and record releases - and, of course, purchase more of their music from their former rival and now vanquishing victor, the iTunes Store. ®