US regulators have run out of higher courts to appeal their long-standing case that memory maker Rambus tricked industry groups into an anticompetitive "patent ambush."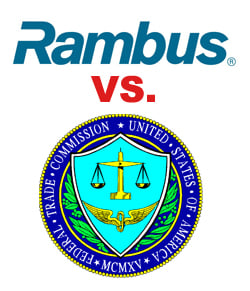 The Supreme Court rejected the US Federal Trade Commission's request to resurrect antitrust accusations the District of Columbia Circuit tossed out in April. Its latest rebuff effectively kills the regulator's seven-year saga against Rambus for allegedly monopolizing four key technologies found in DRAM chips.
The FTC accuses Rambus of deceiving the memory standard-setting group JEDEC (Joint Electron Device Engineering Council) by not disclosing its intentions to patent technologies that would become part of the DDR SDRAM specification.
It claims Rambus didn't mention its patents and patent applications until after the standards were adopted and locked in. Rambus only revealed its patents later through demanding stiff royalties and filing lawsuits against JEDEC members who adopted the standard, the FTC said.
Rambus claims that it never hid the patents while it was a member of JEDEC and that the group doesn't have a rule requiring members to disclose their intellectual property.
The FTC - whose case against Rambus is backed by computer and memorymakers such as Hewlett-Packard, Cisco, Sun, Hynix, and Samsung - says the group would have chosen different technologies or immediately required a cap on royalties if it had known about the patents.
Later in 2007, the regulator required Rambus to license the DRAM technology to other vendors and capped the royalties it could charge.
But the FTC's antitrust allegations have been repeatedly rejected by courts ruling that the commission hasn't shown adequate evidence that Rambus' higher royalty rates result in a less competitive market.
The first case against Rambus was dismissed by the FTC's own chief administrative law judge back in 2004, but the commission voted unanimously to reverse the dismissal and pursue the case.
In April, DC federal appeals court sided with Rambus, citing a lack of evidence and ruling the FTC didn't show the company's behavior enabled it to unlawfully monopolize the memory market.
The Supreme Court let the appeals court ruling stand without comment.
"After enduring years of lost business, uncertainty, and spending millions of dollars defending ourselves against the FTC's ill-founded allegations, we're pleased the Supreme Court has put an end to these claims," Rambus' top lawyer said in a statement. Rambus also has several outstanding lawsuits filed against memory makers over IP royalties it believes are due. ®
Similar topics