NASA's Orbiting Carbon Observatory (OCO) is set to lift off this morning from Vandenberg Air Force Base on its projected two-year mission to monitor atmospheric carbon dioxide.
Update: The launch has failed - more here.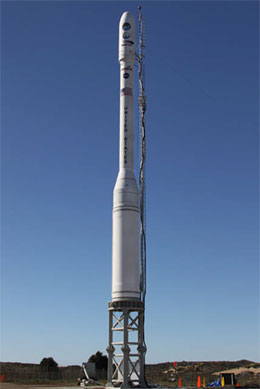 The OCO will be raised aloft atop a solid-fuelled Orbital Sciences Taurus XL rocket (see pic). Its task is, NASA explains, to collect "precise global measurements of carbon dioxide (CO2) in the Earth's atmosphere"
The agency elaborates: "Scientists will analyze OCO data to improve our understanding of the natural processes and human activities that regulate the abundance and distribution of this important greenhouse gas. This improved understanding will enable more reliable forecasts of future changes in the abundance and distribution of CO2 in the atmosphere and the effect that these changes may have on the Earth's climate."
The OCO will map the entire globe once every 16 days using its single science instrument comprising "three parallel, high-resolution spectrometers, integrated into a common structure and fed by a common telescope". NASA explains: "The spectrometers will make simultaneous measurements of the carbon dioxide and molecular oxygen absorption of sunlight reflected off the same location on Earth's surface when viewed in the near-infrared part of the electromagnetic spectrum, invisible to the human eye."
It adds: "Each of the three spectrometers is tuned to measure the absorption in a specific range of colors. Each of these ranges includes dozens of dark absorption lines produced by either carbon dioxide or molecular oxygen. The amount of light absorbed in each spectral line increases with the number of molecules along the optical path.
"The Orbiting Carbon Observatory spectrometers measure the fraction of the light absorbed in each of these lines with very high precision. This information is then analyzed to determine the number of molecules along the path between the top of the atmosphere and the surface."
NASA hopes that the data collected will "help scientists more accurately forecast global climate change" and "may help policymakers and leaders make more informed decisions to ensure climate stability and retain our quality of life".
It will also be keeping an eye out for the "missing" carbon - the 30 per cent of man-made carbon dioxide which simply disappears into "unknown places".
The main OCO page is here. There's more on the OCO's science instrument here and a mission overview here. ®
Sponsored: Practical tips for Office 365 tenant-to-tenant migration