Review HIS describes its HD 4870 IceQ 4+ Turbo 1GB as its "Fastest Single GPU Graphic Card Ever", complete with all of those capital letters. HIS is an AMD partner, so that's another way of saying that this particular IceQ 4+ is an overclocked Radeon HD 4870 - the 4870 X2 is excluded by virtue of being based on two GPUs.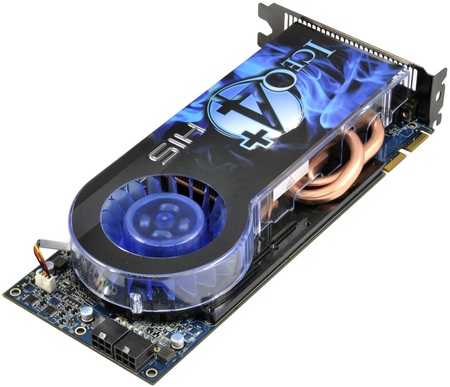 HIS' HD 4870 IceQ 4+ Turbo 1GB: from the top...
A reference HD 4870 runs at a core speed of 750MHz with GDDR 5 memory clocked at a true speed of 900MHz to give an effective speed of 3600MHz. The HD 4870 IceQ 4+ Turbo is clocked at 770MHz/4000MHz, so the extra speed is trivial as delivered, although we'll come to overclocking in a short while.
There appears to be some doubt about the claim that the HD 4870 IceQ 4+ Turbo is the fastest HIS graphics card as the company's own HD 4870 Turbo is clocked at 780MHz/4000MHz.
The difference between these two models is the IceQ 4+ cooler. At first glance, our review sample looks quite similar to a reference HD 4870, although the pair of heatpipes that bulge out of the side of the IceQ 4+ give a visual clue that this is something different. The design is similar to a regular HD 4870 - it's a double-slot card that uses a dustbuster-style fan to blow cooling air across the heatsink that sits on the GPU and memory chips. This heated air is then expelled through the vented bracket and out of the rear of the case.
The reference cooler draws air in from the top of the cooler, but HIS has raised the end of the cooling package to allow air to be drawn in from both the top and bottom of the 70mm diameter fan. Add the pair of chunky 8mm heatpipes to the equation and you have a heat path that has the potential to efficiently shift the heat from the HD 4870 chip to the heatsink and then to the airflow and out of the case.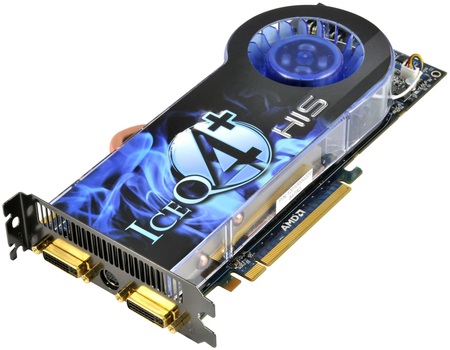 ...and the bottom
Testing this premise was a little awkward as we don't have a regular HD 4870 that we can use for a direct comparison, but we do have an HD 4870 X2 and an HD 4850 which fall either side of the HIS IceQ 4+ Turbo in terms of performance.