This article is more than 1 year old
Lexmark E260DN networked mono laser printer
Not as fast as claimed
Review Unless the vast majority of your documents need colour, you'd do well to look at a mono laser as your main printer. Lexmark has a wide range and maintains its reputation - a hangover from its days as IBM's printer division - for producing good, reliable office-oriented printers. The E260DN is a mid-range machine handy for the home as well as the office.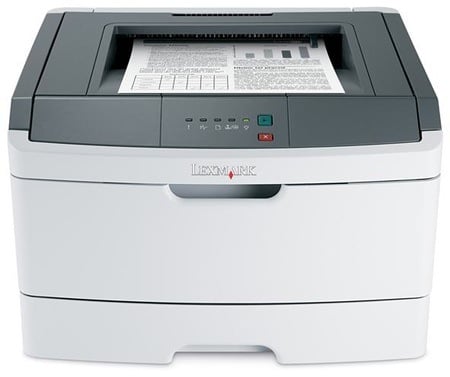 Lexmark's E260DN: unobtrusive - if unexciting - looks
Simple lines in off-white and dark grey mean the E260DN fits in unobtrusively in most locations. Although it has a fairly substantial footprint for an A4 printer, it sits quite low on the desk. Its design is as conventional as its looks, with a 250-sheet paper tray drawer at the bottom of its front panel and a pull-down cover above that, serving as a single-sheet multipurpose tray.
Output is fed to a depression in the top of the machine, and for some reason Lexmark has included a strange piece of bent wire which sits on top of pages as they feed out. We could see its purpose, if this was a phenomenally fast printer which would otherwise throw paper out over the front and onto the desk. However, although it has a fair turn of speed, the E260DN shows no signs of unwarranted paper spew.
The control panel is no more than five LEDs and two buttons, but since there are no walk-up-and-print facilities and everything is controlled from the software running on your computer, this isn't too much of a disadvantage. The indicators cover the usual printer status needs, such as low toner and paper jams. The buttons restart and stop a current print job.
At the back, as well as sockets for USB 2.0 and 10/100Mb/s Ethernet, which were to be expected in an 'N' - for 'network' - suffixed machine, there's a ye olde parallel port. It's hard to believe there are many places using PCs with parallel ports but no USB, but it may be easier to slip this machine into some slow-turnover or non-PC environments as a result.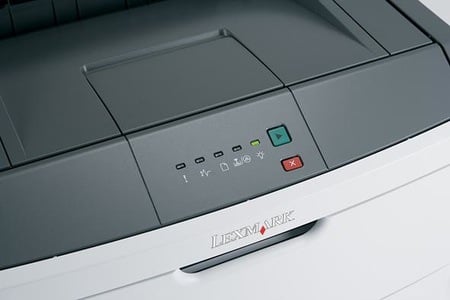 No LCD on the control panel, just lights
Fold the whole of the front panel down and you can get at the two-piece drum and toner cartridge, which slides in from the front. The drum is rated at 30,000 ISO pages, which is a healthy life for a machine in this class, but the toner cartridge is only good for 3500 pages, which is on the low side. The toner cartridge clips onto the drum, so both consumables slide into the printer as one.