Multi-coloured DSi models emerge
But only in - you guessed it - Japan
---
Nintendo's updated DS handheld console, the DSi, isn't even out here yet, but those pesky Japanese gamers have already been rewarded with a resprayed line.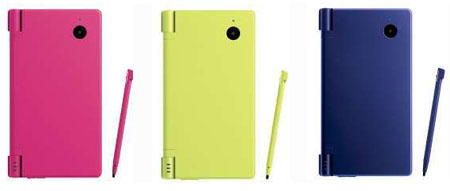 Nintendo's resprayed DSi consoles
Very soon – the exact launch date's yet to be confirmed – Nintendo will launch the DSi in three new colours: pink, green and blue.
Whether the three resprayed models will come with any extra add-ons – as Sony's PlayStation Portable Carnival Colours range does – remains to be seen.
The DSi will be available in a black or white body on 3 April in the UK. It'll cost £147 ($209/€166). ®