This article is more than 1 year old
Samsung unsheathes screaming phone
What could possibly go wrong?
Samsung has released a mobile phone with the ability to scream as loud as a snowmobile or motorcycle.
And when we say "motorcycle", we're not talking about a smoothly purring BMW R 1200 RT. The Samsung SPH-W7100's alarm siren pumps out a ear-splitting 100db. Think of that insensitive punk with after-market pipes blatting up your street at 3am.
That loud.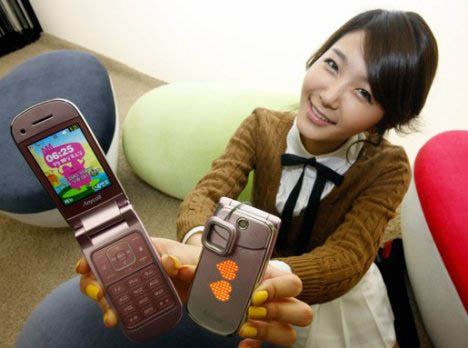 Self-defense has never been quite so loud
The SPH-W7100 is designed for people who fear going out in public. Not only does it provide that deafening siren, but activating the ear-piercer also sends a distress signal to the local constabulary, complete with your coordinates as provided by a built-in GPS.
The phone features an LED grid that comes with preset cutesie patterns such as hearts and kitties. And you can program to display whatever pixelated image gives you comfort when walking the mean streets.
The new phone will go on sale next month in Korea and will be marketed to women and children - and, of course, to their burly male protectors who believe that providing their fair ones with a screaming phone would be more effective than enrolling them in a kick-boxing course.
The SPH-W7100 has passed FCC muster in the US as well, so it may arrive in the States in due course. No UK plans have yet been forthcoming, however.
And if you simply must own one, please do remember to turn it off when at the theater. ®