Sharp UK intros 108in monster telly
Costs less than £1000 per inch
---
If a 32in LCD just won't do for your modern living room then how about a 108in beast from Sharp?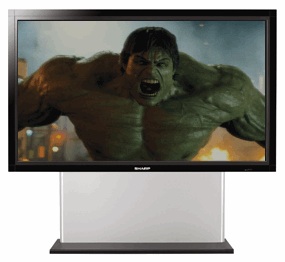 Sharp's 108in LB-1085: monster
The monstrously sized LB-1085 screen was first seen back in mid-2008, but was built to order then and really only aimed at businesses who want enormo-screens for conference rooms, shopping centres and the like.
But the firm's now done a 180° and decided to launch the TV into the UK for any old Joe Bloggs... with £100,000 ($143,000/€111,000) going spare.
Aside from 1080p resolution, buyers will be treated to a 176° viewing angle, 6ms response time and – according to some reports – a feature that prevents the humungous telly from eating up the National Grid's entire power supply. ®