This article is more than 1 year old
Big Blue flaunts Meltdown-proof coating
Re-promises record 2009
Four more weeks of the economic meltdown has not changed IBM's tune. At the Goldman Sachs Technology and Internet Conference in San Francisco, IBM's chief financial officer, Mark Loughridge, said that January was just fine at Big Blue and affirmed the guidance the company has provided to a somewhat skeptical and skittish Wall Street.
Such tech conferences are an excuse for IT vendors to throw numbers around, and Loughridge did not disappoint as he compared the IBM of today to the one that took some big hits in the last recession. (He did not bring up the IBM that nearly went bankrupt in the early 1990s, shedding close to 200,000 jobs, during a recession that saw IBM firmly embrace services and software and start backing away from unprofitable hardware businesses). Loughridge explained that compared to the 2001 downturn and the 2002 collapse, IBM has divested itself of PCs, disk drives, printers, and other businesses.
"We've never look at those and said, 'Gee, we wish we were back in those businesses, by the way.' And with the funds from those divestitures and with our own pretty robust cash flow, we've invested pretty heavily," explained Loughridge.
How much? Over $20bn acquiring over 100 companies to build out its software and services portfolio since 2000, according to Loughridge. IBM has shelled out over $50bn in research and development since 2000 too, and a lot of that has been for software and services.
Compared to the IBM that existed during the 2002 bottom drop in IT spending, which shows up pretty dramatically in the graph below in IBM's pretax income and cash flows, but not so much in its revenue, the Big Blue of 2009 is a different animal. And that's why today, over 90 per cent of IBM's profits come from software, services, and financing, which makes you wonder why Machines is event part of the company's name any more.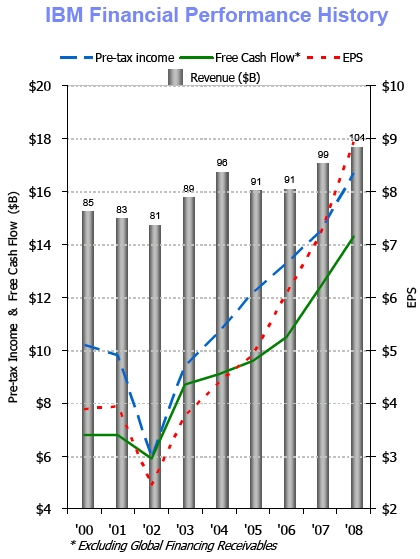 This is not Financial Engineering 101. It's Graduate School.
Loughridge said that the 2002 dip was "more characterized by over capacity" in IT departments than any other factor and said that IBM has learned from the experience. And he bragged about the financial engineering that Big Blue has performed. "We have generated an additional $10bn in pre-tax income. We have doubled our PTI margins to 16 per cent. We've tripled EPS. We've generated $65bn of free cash flow. And we have repatriated $67bn to our shareholders through dividends and share repurchase."
Looking ahead, Loughridge took an obvious dig at rival Hewlett-Packard and to a lesser extent Dell too. "My view of the demand environment is from the enterprise market because we don't have exposure to the consumer market," he said before launching into a conversation about what you do when you are in an economic environment that is overleveraged. (The answer is: increase the money supply, regardless of inflation fears; restructure businesses, with mergers and acquisitions; and invest in technology to push productivity enhancements).
IBM is going to stick to its knitting in 2009 and keep calling the same play, which is continue to invest in emerging markets where growth is highest and to push the established economies to invest to boost productivity. And while he conceded that IT spending growth rates in the emerging markets are slowing down, the relative opportunity is about the same.
"The differential growth rates were still in the 7 to 9 per cent range in all four quarters of 2008, and our January performance was very consistent with that," said Loughridge. Big banks in China, Brazil, and Russia are, believe it or not, buying scads of mainframes, and telcos in India are inking big infrastructure deals with IBM too.
So even with a prediction of flat revenues at constant currency in the countries where IBM does business - and with thanks to layoffs and other restructuring and lots of share buybacks - IBM is pretty confident it can hit its EPS targets for 2009.
"We had a pretty strong close to the year," said Loughridge. "We did $8.93 [in earnings per share] and the Street was expecting $8.69. We had record profit, record cash flow, and record earnings per share. We still feel confident in our view that we will achieve at least $9.20 for the year." He added that January was very consistent with this model.
Contrast this with Hewlett-Packard, which saw double-digit declines in PC, server, and printer sales in its fiscal 2009 first quarter ended in January. While the first quarter is never a great one for HP, the company said that January was particularly tough - something that IBMers are gleeful about. HP has removed about $13bn in sales out of its projections for fiscal 2009, and now says that it expects sales will fall by 2 to 5 per cent compared to fiscal 2008, with EPS coming in at between $3.19 to $3.31.
You can see why IBM is so happy. Look at how much more dough hits the bottom line for companies that are roughly equivalent in size. ®