This article is more than 1 year old
Apple laptop ignites marketing department
Faulty PowerBook catches fire
Staff at a London-based marketing firm had a lucky escape recently, when one worker's Apple laptop caused some serious issues for the IT department.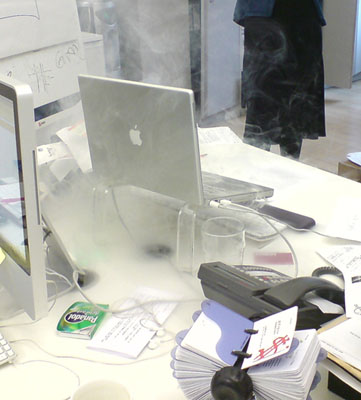 The PowerBook, shortly before it went bang
Images courtesy of Vnunet
The machine – thought to be a PowerBook, according to a report by the Inquirer – caught the attention of nearby workers when it began billowing smoke.
By the time the IT guy arrived much of the machine's smoke had dissipated. But it was only after he'd given the laptop a once-over and put it back down onto the desk that "it basically exploded", sending flames and sparks shooting six feet into the air.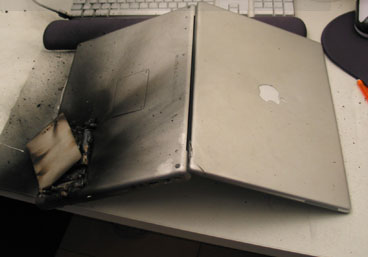 The IT department had a narrow escape
Thankfully, staff had enough sense to stand well back while the Apple laptop was sprayed with a fire extinguisher. The machine – which it's thought was between three and four years old – was described as "hot and glowing" and the battery as "molten inside and glowing red".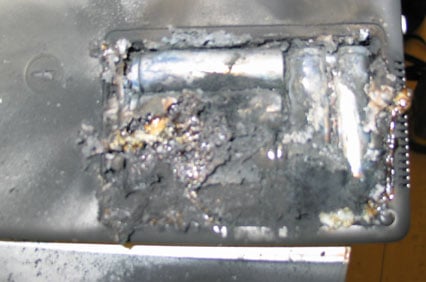 Hope they backed up their data
Apple's PowerBooks are pretty old school these days, but back in 2006 – when the machine was still going strong – the company warned that some lithium-ion batteries in 12in and 15in PowerBook G4s, sold between October 2003 and August 2006, could "pose a safety risk that may result in overheating under rare circumstances".
Apple provided owners of said machines free replacement power packs. It's not known if the owner of the detonating PowerBook took the company up on its offer. ®