This article is more than 1 year old
Nintendo unveils 'Pro' Wii controller
Like the Classic, just with more grip
Pictures and specifications for a redesigned Wii Classic controller have been published on Nintendo's Japanese website.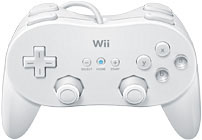 Nintendo's new Wii Classic Controller Pro
Called the Classic Controller Pro, the gaming giant's new cabled controller is essentially the same as its existing Classic gamepad – but with two PlayStation DualShock-like grips stuck on.
Two additional shoulder buttons also appear to have sprung up on the Pro model. It also features all the usual tappers - such as ones for Home and Select – a directional pad and two thumbpads.

The Classic Pro (right) isn't too different from the original (left)
The Classic Controller Pro measures 100.5 x 146 x 55mm and will be available this summer, although Nintendo hasn't specified if that means global availability. ®