This article is more than 1 year old
G.hn-ing for gigabit
How the next-gen home LAN standard war was won
It's surely no coincidence that shortly after one technology for high-speed home networking achieved a key step toward becoming a world standard, the minds behind an alternative approach said they too had finally got the ball rolling.
It won't do it much good - the second would-be standard, IEEE P1901, is arguably doomed, a victim of a standards war in which only one shot has been fired.
Early in December 2008, the International Telecommunication Union (ITU) gave its thumbs-up to G.hn, a proposed standard for domestic networks over a range of different cable types. G.hn's goal is to unite coax, phone lines and mains cabling into a single network capable of hosting multiple HD streams over gigabit bandwidths around the home.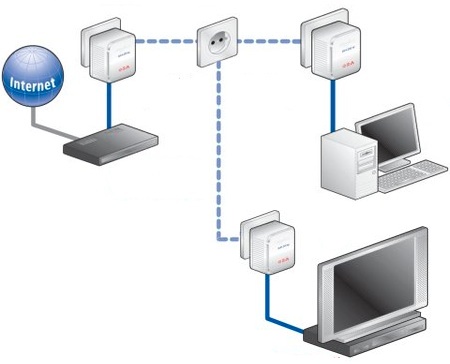 Powerline today: battleground for two rival technologies
Image courtesy Devolo
The ITU's backing - its "Consent" in the formal language employed by the organisation - centres on the G.hn physical signalling sub-system, the PHY. G.hn developers still have to finalise the MAC layer - the bit that handles the exchange of meaningful data - but ratification of the physical layer is the major milestone to pass, since vendors can now get on with designing and building kit.
The technology's being backed by almost two-dozen manufacturers and by organisations who've thus far promoted networking over one of those three links. So, powerline networking proponent the Universal Powerline Association (UPA) has joined up with the Home Phone Networking Alliance (HomePNA) to support a technology that will bring their respective worlds together.
But just as UPA has spent the last few years slugging it out with the rival powerline specification pushed by the HomePlug Alliance (HPA), each to position its preferred technology as the de facto standard for networking devices over mains wiring, so G.hn has an apparent competitor: the IEEE's P1901 initiative.
P1901 was established in June 2005 to define a standard way to link homes to broadband service providers over powerlines, but has since brought in-home powerline networking into its remit too. Both HomePlug and the UPA - effectively, its main backer, Spanish powerline chip maker DS2 - joined in and proposed their respective powerline technologies for P1901's LAN component.
So did Panasonic, which pushes powerline in Japan through its HD Power Line Communications (HD-PLC) subsidiary, but after many months in which P1901 members couldn't agree on which proposal to use, it teamed up with HomePlug to propose a combined technology compatible with both.
Panasonic's initial proposal was also supported by Japan's Consumer Electronics Powerline Communication Alliance (CEPCA), which counts pretty much all the major local CE companies among its members. It's since become a major G.hn proponent.