This article is more than 1 year old
Free TV.com comes to the iPhone
Might Hulu follow CBS?
CBS Mobile has introduced a new free app into the iTunes App store that streams a selection of its TV.com content onto the Apple iPhone and iPod Touch.
The content is provided by a variety of CBS properties, including the media giant's Entertainment, Sports, and News divisions, plus snippets from additional CBS properties such as CNET TV, GameSpot, The CW, and others. YouTube content is also featured.
What TV.com does not include is content from Hulu, which pulled its programming from TV.com earlier this month. Perhaps the Hulu dancers had advance word of this extension of CBS Mobile's competitive reach.
When we asked them, however, a spokesperson remained mum, citing the same statement the company made after its dissolution of its TV.com partnership, namely that "Hulu has contractual rights with regards to our relationship with TV.com and we are exercising those rights. Out of respect for their confidentiality, we will not disclose our discussions."
Although streaming even de-Hulued TV.com content onto a tiny screen using the new iPhone app - cleverly named TV.com (iTunes link) - may sound like a fine way to waste an hour or three, caveats abound.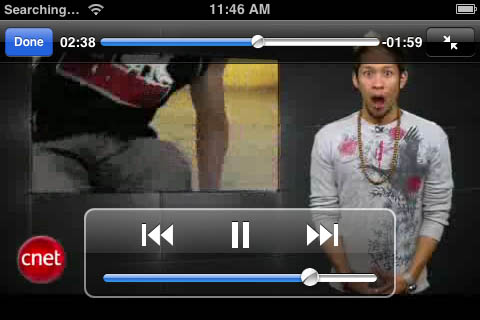 CNET TV's Apple Byte is one of the hundreds of shows availabe on TV.com
1: If you're reading this report from anywhere other than the US, odds are you can stop right now. Although we've only tested it here in The Reg's San Francisco offices, reviews of TV.com on the App Store complain that it doesn't work in other countries.
2: Streaming works over Wi-Fi, 3G, and EDGE connections, but you're not going to want to watch anything on the latter two. Video and audio quality is noticeably degraded and load times are long, even for brief clips.
3: Although the App Store's marketing blurb breathlessly touts "FULL EPISODES of our favorite shows," those full-length goodies are few and far between. Our thorough search turned up only 20 - and, among those, four were of of Beverly Hills 90210 and two were of The Young and the Restless. We are happy to announce, however, that there are four full episodes of Star Trek: The Original Series and six of MacGyver.
4: Full episodes aren't exactly "full." They are, instead, divided up into chunks of eight or so minutes each. For example, the "Dagger of the Mind" episode of Star Trek: The Original Series is divided into seven clips - after you watch one, you need to stop and reload the next.
5: The vast majority of the content is merely short clips of anywhere between 20 seconds and a few minutes. Some is amateurish "behind the scenes" content, although much is snippets of professionally produced shows.
6: TV.com is clearly suffering from some version 1.0 creakiness. A search for "CSI" for example, turns up Mihaly Csikszentmihalyi and Attila Csihar - and neither of those two worthies' names are in the titles of the clips in the search results. Also, the playing times listed for some of the clips are ludicrously long, making it difficult to decide whether or not to view them. Imagine, for example, if a CNET TV report about Steve Wozniak's appearance on Dancing with the Stars actually did run the nearly five hours the app reports. Eyes would be Oedipused all across America.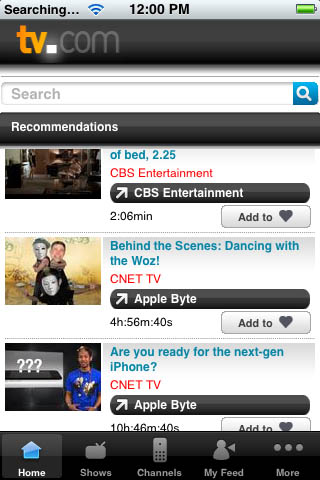 Five hours of Steve Wozniak dancing? One certainly hopes not
7: Although you can mark a video as a Favorite, it won't necessarily be there the next time you launch TV.com. According to the app's FAQ, some videos "expire" after a period of time.
Even with all these cautions, the new iPhone access to the TV.com collection benefits from a clear interface and such nifty tricks as a "Shake-to-shuffle" feature that selects clips at random and the ability to create your own My Feed collection of preferred shows, channels, and topics.
We now await an iPhone app from Hulu. When asked if such an app were in the offing, the Hulu spokesperson replied that although their streaming-TV service is currently PC-centric, "Hulu listens closely to user feedback to help develop its plans for future versions of the service."
And so if you're interested in Hulufying your iPhone, you might want to drop them a note. ®