Apple overhauls MobileMe
Drains swamp of embarrassment
Apple has introduced a handful of improvements to its MobileMe online service, further draining the swamp of embarrassment caused by the utility's botched introduction.
In an email recently sent to MobileMe subscribers, "The MobileMe Team" announced four improvements to the struggling service, including a new way to share large files with individuals and groups, speedier contact and calendar syncing with Macs and PCs, improved notifications and syncing with iPhones, and improved performance when using the MobileMe web application.
In the same email, the team said that "Over the past few months, we have been working hard to make MobileMe the best service it can be."
Well, let's hope they've been working hard. To say that MobileMe's short life has been problematic would be like saying that the Tour de France has a bit of a drug problem.
MobileMe's problems began even before its launch in July of last year. It was two hours late, then sputtered online and off for the first day. Worse, its much-touted push feature simply didn't work. Then billing problems surfaced, which Apple quickly apologized for, only to see its service dope-slapped by problems working with Outlook.
Apple soon had to apologize again, this time for losing some of its customers' emails. Then MobileMe decided to lock out some customers and muck with others' contacts.
Things got so bad that even the Pope apologized.
After the email problems were fixed, Apple attempted to mollify MobileMe members by tacking on a free 60 days - the second time that they had used free chunks of a dysfunctional service to calm raging fanbois.
Then after it was discovered that MobileMe could be turned into a delicious treat for spammers, the service simply disppeared for a few hours - perhaps out of shame for deleting calendar and contact info from the iPhones of users who had canceled their accounts.
It hasn't been pretty. But it must be admitted that Apple's lumbering, cloud-dwelling online service is finding its sea legs. Our testing of the new, upgraded MobileMe has yet to find a glitch in any of the improvements announced in the recent email.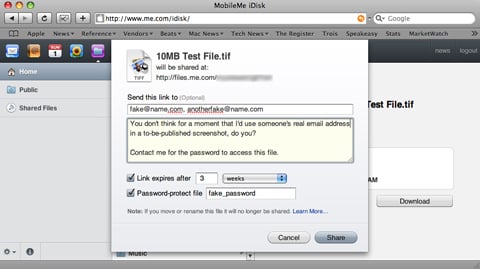 When sharing a file, you can set an expiration date and add a password
MobileMe's cloud-based storage, called the iDisk, now allows you to select a file, click a Share File button, and send the selected file to one or more contacts, who will receive an email that asks if they wish to download the file directly from the cloud - a useful way to leapfrog email services' file-size restrictions.
We were able to share large files with ease, and download speeds were limited only by our office's internet connection. It was a great time-saver to not have to email our 10MB test file over the meager upload bandwidth of our ADSL line. More information on MobileMe's file-sharing can be found here.
The promised contact and calendar push feature now works. Better late than never. When we tested over a Wi-Fi connection with MobileMe set to sync automatically in System Preferences > MobileMe > Sync, a contact added in Apple's Address Book appeared on our iPhone in less than a minute. Syncing from iPhone to Mac was similarly snappy.
Each of the enhancements to the MobileMe web app that we tested also worked as advertised. Contact searching, for example, was nearly instantaneous in our 225-contact test list, as was switching among day, week, and month views in the Calendar view.
We've slapped MobileMe around quite a bit since its stumbling launch - because it deserved it. It's only fair to now announce that Apple appears to have debugged its online service enough to make it acceptably usable. ®