Psion Teklogix has filed a counterclaim against Intel in response to the chip giant's attempt to get its Netbook trademark nixed in the US.
The complaint - filed, like Intel's, with the US District Court for Northern California - wants Intel brought to book for allegedly infringing said trademark.
"Intel has acted willfully and maliciously, has unlawfully attempted to trade on the tremendous commercial value, reputation and goodwill of the Netbook mark, and has deliberately and intentionally confused and deceived the public as to an affiliation, connection or association of Intel with Psion, and/or as to the origin, sponsorship or approval of Intel's goods and/or services," the PDA pioneer alleges.
Tremendous commercial value? Well, Psion claims it has sold $13,650 worth of Netbooks - specifically "laptop computers under Psion's Netbook mark" - this year alone, down from a peak of just over $2m in 2006, after which sales fell to $586,680 in 2007 and $60,900 in 2008.
This despite the fact that the product has been officially end-of-life'd: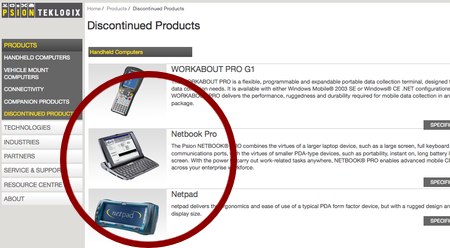 How the Netbook is lauded on Psion's website
Still, the implication is clear: had Intel not muddied the waters by using the word 'netbook' generically, Psion's sales might have been higher.
That said, we'd note that Psion has singularly failed to take advantage of the situation to shift product on the back of the buzz around small, cheap computers. Pretty much every other computer vendor - Apple excepted - has.
"As a result of the plaintiff's long use of the Netbook mark in association with Psion's products and services, the Netbook mark has come to be recognised by the relevant consuming public as being sponsored by, approved by, authorized by, associated with or affiliated with Psion," the complaint maintains.
A straw poll conducted among shoppers in a well-known central London flagship computer shop reveals this to be highly questionable in the UK, if not the US. Not one of the "consuming public" we asked said anything about Psion when we mentioned the word 'netbook'. Eee PC. Acer. Apple and its lack of said product. But not Psion.
"Use by Intel of the designation Netbook has caused and is now causing severe and irreparable harm to Psion," the now-Canadian company claims. It wants a Jury trial, hoping the assembly will be more willing to support the underdog than the chip giant. ®