Sony DSLR-A900 Alpha 900 digital SLR
Looks great on paper
Review If cameras were rated on specifications alone, Sony's Alpha 900 would be a hard act to beat. Let's consider the evidence: there's a full-frame Exmore CMOS sensor packed with 24.6 million pixels - and, please note, this is the effective number. The sensor measures 35.9 x 24mm. Other goodies include a built-in image stabilisation system, SuperSteadyShot Inside; two image processors to handle all that extra picture data; twin anti-dust systems and HDMI output.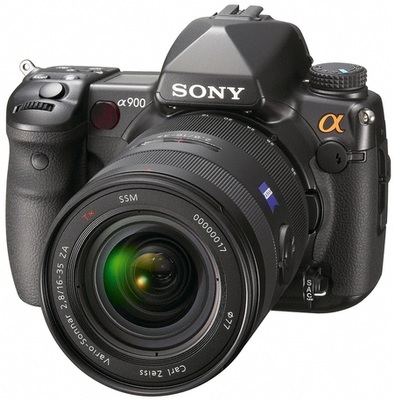 Sony's Cyber-shot Alpha 900: on paper, perfect
But as we all know, figures are one thing - facts are another. What looks on paper doesn't always turn out that great in practice. So the question is: does the A900 cut the mustard?
Naturally, this is a top-end model - Sony calls it its "flagship" offering - aimed at professionals and serious enthusiasts, but we think that Sony may have missed a trick or two with its target audience, because the A900 has no Live View, no video mode, no eye start optical viewfinder and no pop-up flash. No doubt some serious photographers won't miss these features, and will probably thank Sony for delivering a DSLR that cuts out the 'frills'.
But one person's frill is another person's handy feature, and we think a fair number of the so-called 'prosumer' market will miss some of these elements, not least when you consider that one potential rival to the A900 – Canon's EOS 5D Mark II – offers HD video capture.
That said, the A900 is impressively built. With a magnesium body and aluminium alloy chassis, it certainly feels solid and robust. And - ye gods - you certainly feel its weight. When loaded up with a Sony DT 16-105mm f3.5/5.6 lens, CompactFlash card and battery, our review sample tipped the scales at 1.5kg. The camera body weighs 928g. Add a flash unit and you'll certainly need to ensure you've eaten your spinach. Incidentally, the camera is compatible with a-mount lenses from both Sony and Konica Minolta.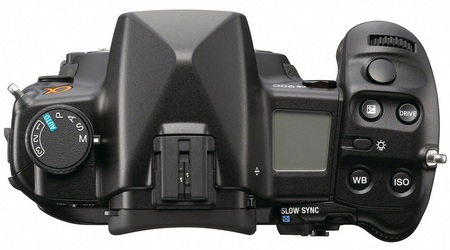 Hefty to handle
A brief tour reveals at the front, a remote sensor window, flash sync terminal, focus mode dial and preview button – more on this later. On the top are a mode dial - which has the usual PASM modes, plus three user-defined custom settings - a hot-shoe sitting atop a massive pentaprism head, small LCD panel, and buttons for ISO, drive mode, white balance, exposure compensation and illuminating the top LCD panel. In front of these are the shutter button and front control dial.