Sony DSLR-A900 Alpha 900 digital SLR
Looks great on paper
---
At the back of the A900 are the power switch, viewfinder - next to which is a tiny viewfinder shutter lever- AE Lock/Slow Sync button, auto and manual focus switch button, and rear control dial. Below these are a vertical row of menu, display, delete and playback buttons and a 3in LCD screen composed of almost 922,000 dots. At the right is a joystick controller, custom/histogram button, function button and a large on/off slider for the image stabilisation system.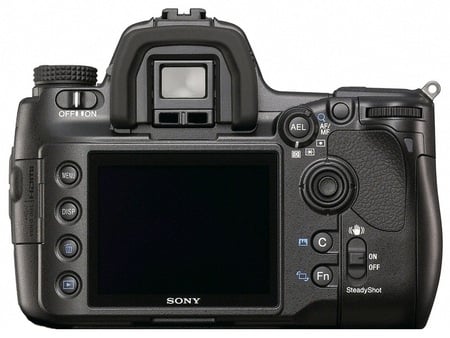 The viewinder provides 100% coverage
On the left of the camera body are two flaps covering DC and remote terminals, behind which is another flap hiding mini USB and HDMI ports. On the right side, is a large flap covering two slots, one for Compact Flash cards, the other for Memory Stick Duos. At the bottom is the compartment for a lithium-ion battery.
A brief checklist of other specifications includes a nine-point AF system, three metering modes - multi segment, centre-weighted and spot - expandable ISO range of 100 to 6400; high ISO noise reduction; a shutter speed range 1/8000-30s with bulb option; continuous shooting speeds of 3f/s and 5f/s; exposure bracketing with three or five frames: JPEG and RAW file formats with a maximum resolution of 6048 x 4032;14 creative styles or pre-programmed settings for various scenes, such as landscape, portrait and night; and a dynamic range optimiser for improving contrast.
When it comes to handling, the DSLR-A900 has a lot going for it – and one or two interesting foibles. We've already mentioned its weight, but the large body is comfortable to hold and most of the controls you'll want to adjust frequently fall easily to hand. The front and rear control dials, for example, are within easy reach of the right thumb and index finger. Navigating the various menus and function options is easy thanks to the joystick control.
The piece de resistance is the viewfinder, which offers 100 per cent coverage. Quite simply, it's gorgeous. The A900 comes with a Type G focusing screen, which displays the nine AF points, and two optional replacement screens are also available. The viewfinder display provides shutter speed, aperture, exposure compensation level and image stabilisation information. The latter is in the form of five vertical illuminated green lines, which light up according to how hard the system is working.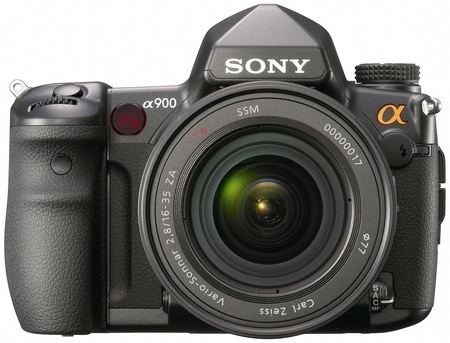 The controls fall easily to hand
The large LCD screen is clear and bright and shows lots of useful information, but the top LCD screen is simply not good enough for a camera of this class. In normal mode, it simply shows you the battery level and number of frames remaining. Press the ISO button and you'll also see the ISO number. But other buttons result in obscure messages. For example, the continuous drive Hi mode is displayed as "oooH", while the white balance setting for cloudy is "Clud."