Sony DSLR-A900 Alpha 900 digital SLR
Looks great on paper
---
We were also disappointed with a couple more features. It's handy having the option of two memory cards, although the camera won't automatically switch cards when one of them fills up. That said, you can quickly swap over cards by using the function button.
The preview function takes a snapshot of the scene which is shown on the large LCD screen. You then have the option of making a number of adjustments - depending on the camera mode - such as exposure compensation and white balance. You can then compare the adjusted image with original by pressing the display button. It's a handy feature, but because the preview image is a compressed RAW file, you can't save it, which is a pain if you have captured the decisive moment. But don't let these gripes make you think that using the DSLR-A900 isn't a pleasant experience – there is a lot to like about this camera.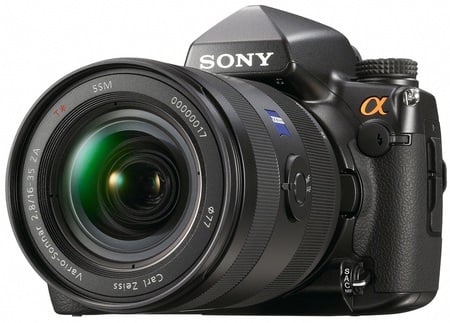 Impressive performance
Performance-wise, the A900, produces the type of quality you'd expect from a camera of this type: very good indeed. Sadly, Sony was unable to provide us with one of the Carl Zeiss lenses that are an ideal partner for the A900, so there's probably even more performance to be squeezed out of it. RAW and JPEGs offered similar quality, although the former looks a tad sharper when using Sony's RAW viewer software. Noise levels were low, although this creeps up between ISO 400 and 500. The High ISO noise reduction system's impact was more subtle than spectacular. Our advice: stick to the lower ISO speeds where possible. The AF system was reasonably good, if a little sluggish at times.
One thing that did impress though was the integrated stabilisation system, which works with whatever lens you use. It works by detecting camera shake and adjusting the CCD's position accordingly. Sony says it offers up to four stops of compensation, allowing users to use slower shutter speeds without noticeable camera shake. We took a number of shots at the extreme end of our 105mm zoom, starting with a 1/125 shutter speed. We then reduced this by one stop until 1/8, and compared the results with image stabilisation switched both on and off. The results were impressive, although we found that SuperSteadyShot Inside offers around three stops of compensation rather than four.
We weren't so impressed with the D-Range Optimiser system, which is designed to improve contrast when, for example, shooting against a strong backlight. DRO does indeed boost detail that is normally hidden, but the price is increased noise. However, we loved the continuous shooting mode, which had no problem keeping up with fast moving vehicles.
Verdict
Sony is snapping at the heels of Canon and Nikon, and with the DSLR-A900, Sony give its rivals a good old nip. This is a very good high-end DSLR that will please many users. That said, we think some potential buyers might be put off by the lack of one or two features. We also think that there's room for improvement in the area of handling. But its full frame viewfinder and built-in image stabilisation system are cracking features to have. If you're considering buying a Canon EOS D5 Mark II or a Nikon D700, you should take a long hard look at the DSLR-A900 too. ®
More DSLR Camera Reviews...
| | | | |
| --- | --- | --- | --- |
| Pentax K-m | Nikon D90 | Olympus E240 | Canon EOS 450D |

Sony DSLR-A900 Alpha 900 digital SLR
A high-end DSLR that has some cracking features, although some users might miss one or two others.
Price:
£2049 (body only) RRP