With Terminator Salvation lead actor Christian Bale losing it and the movie's director Joseph McGinty clashing with Warner Brothers for clipping scenes to make his film PG-13 instead of R, the time is ripe for the man who helped make the whole Terminator oeuvre such a success to step in, apply some cool Austrian logic, and bang some heads together.
So where will you find Arnold Schwarzenegger, the physical embodiment of Cyberdyne Systems Model 101?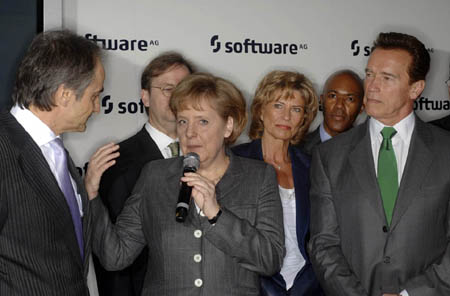 One of these is a machine sent from our future
He's glad handing IT types and mixing it up with the German Chancellor Angela Merkel at Cebit in Hanover, Germany, which he was attending in his official role as Governor of California and Germanic type.
The Governator toured the booths of Cebit with Merkel in tow, stopping by - among others - the stand of Software AG, Germany's second largest software company where he delivered a few well-chosen words, according to our contacts.
Among them: "I've seen more technology today than I've seen in my whole life." Asked by Merkel if he'd return to Cebit in future years, the answer? "Aahhll, be baack", naturally.
We'll be waiting, Mr. Governor. ®
Sponsored: How to simplify data protection on Amazon Web Services