Garmin has veered off of the road to launch two satnav series targeted at pedestrians.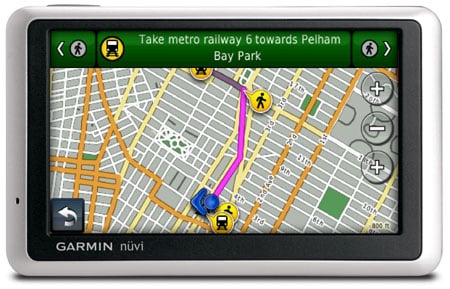 Garmin's Nüvi 1200 and 1300: walk, not drive
The Nüvi 1200 and 1300 series – which together comprise eight models in all – are compatible with CityXplorer maps, which Garmin claimed offer "pedestrian navigation capability" for selected tourist destinations throughout North America and Europe.
The models also support a public transport mode that allows pedestrians to plan their route using the bus, tramway, metro and/or train network in the two continents.
"The personal navigation device is no longer just for the car – take it with you wherever you go," said Dan Bartel, Garmin's VP of Worldwide Sales.
Garmin has remembered that pedestrians don't have the luxury of an in-car mount and so has claimed that all eight models have a thin-and-light form-factor that enables the satnavs to be easily carried in a pocket or purse.
All models do, of course, also provide standard road-centric navigation and have an eco-mode that suggests fuel-efficient driving routes.
All models in the Nüvi 1300 series boast a 4.3in touchscreen display, while the 1200 series' models come with a smaller, 3.5in display. Free lifetime traffic alerts and lane assistance features are also available on some models, but all include a text-to-speech feature.
The price of each model mainly depends on the included maps, but prices range from $450 (£319/€359) for the Nüvi 1370T to $200 (£141/€159) for the Nüvi 1200. All models will be available during Q2. ®